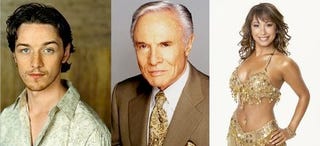 It's a sad world, but there are things to make us happy, like births and newly-single male models! Look for birthing, dying, and marrying info about Ellen DeGeneres, Erich Segal, Pernell Roberts, Octomom, and a host of others.
Births (and birthdays):
James McAvoy, who sizzled our britches off in The Last Station, is expecting his first child. Well, his wife (and Station costar), Anne-Marie Duff, is.
Celebrating a birthday today are: revolutionary and afro-sporter Angela Davis, daytime dancer and the least gay thing on Idol Ellen DeGeneres, your older sister's favorite guitarist Eddie Van Halen, the other half of Wham! Andrew Ridgeley, and the Octomom's brood of eight babies.
Deaths (and other sad things):
Marriages (and other disasters):