S
Neither right-wing American pundit Jonah Goldberg nor French-wire-service-reporter Olivier Knox wanted to gaze upon the U.S.'s engorged senators; Jason Pontin saw the sky falling again; and Bow Wow wants his own movie. The Twitterati couldn't bring themselves to face reality.

S


And this was before he saw them in bikinis. Now Jonah Golberg must really love him some Brown kids. (Via Wonkette.)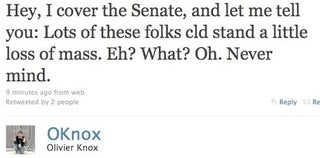 S
Frenchie wire service reporter Olivier Knox issued a "Look at the fat American senators" ZINGer for the folks back home. Either that or he wants to be the Daily Show's Gallic John Oliver (we'd watch).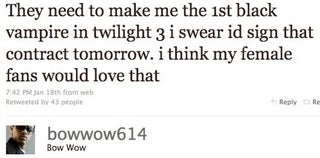 S
What singer Bow Wow really wants to do is act. And get some of those Robert Pattinson level groupies.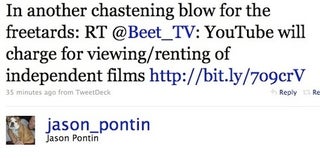 S
MIT Tech Review's Jason Pontin predicted that the implosion of free content will be the worst disaster since that time Amazon.com went bankrupt.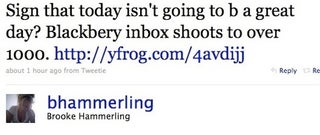 S
If tech flack Brooke Hammerling's Blackberry is any indication, Silicon Valley was freaking out today.


Did you witness the media elite tweet something indiscreet? Please email us your favorite tweets - or send us more Twitter usernames.