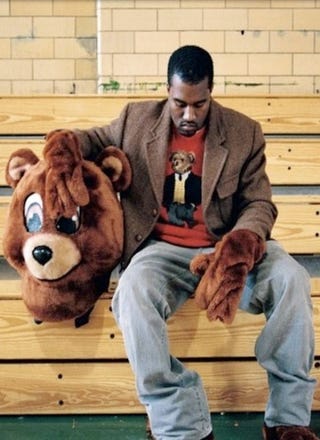 George Clooney won't let Kanye be in his telethon, Kanye ruins everything. Tara Reid gets engaged to a mysterious "billionaire." Michael Lohan abandons a puppy. Diddy's kid turns Super Sweet 16 on MTV. Thursday gossip has daddy issues.
Kanye West's reputation precedes him: George Clooney's telethon is going out of its way to keep him out. "After what he said on the Katrina telethon and the way he behaved at the MTV Video Music Awards, everyone agrees it's just best that he does not participate," said a producer. "Kanye has to make everything about himself. He will do anything to steal the spotlight, and, well, this night it's just not about him." Aw, you're going to make him cry again. He just needs a little Ritalin, is all. [NBN]


Tara Reid got engaged to her German boyfriend, Michael Axtmann. He's supposed to be a billionaire internet entrepreneur, but then why, I ask, isn't he in the Forbes billionaire list? Unless he's inheriting it from someone with a different last name, or earned it all since the start of 2010, which, between that and the engagement, would be a pretty strong start to the new year. Anyway, they're a cute couple, [fig.1] billions or not. [People] [Forbes]


Heidi Montag's plastic surgeon is mad that she claims she almost died from drug complications, "like Michael Jackson," because she did not. That's the price of using a body dysmorphic 23-year-old as your Galatea, doc: They're unreliable. [Popeater]


Diddy is throwing a massive party for son Justin's sixteenth "b'day" on Saturday. (I hate it when people spell it with an apostrophe, because then I pronounce it "bidet" and can't get jetstreaming bathroom appliances out of my head.) It'll be on MTV's My Super Sweet 16, which is a pretty big get, since that show's usually just Orange County brats feigning fame. Snoop Dogg and Lil' Kim are coming, with donations to Haiti in lieu of gifts, which changes the premise of the teenage-greed-baiting show entirely, but since it's Diddy, you know the kid will get a Bentley or something anyway. [P6]


Lydia Hearst—publishing heiress, Playboy model, and quintessential Manhattan princess—is leaving New York and moving to L.A. for pilot season, emboldened perhaps by a recent cameo on Gossip Girl. She's bringing boyfriend Ryan Cabrera along for the ride, which is funny, because I always thought that relationship was a sham. I guess I have a hard time imagining anyone dating ol' porcupine head in earnest. [P6]


Speaking of Gossip Girl: Just landed its first Baldwin. Billy will play Serena van der Woodsen's long-absent father, who will make a valiant return to New York, hopefully to disrupt ex-wife Lily van der Woodsen's domestic bliss, because we all know Lily can't be caged. [P6]


Charlie Sheen wife/victim Brooke Mueller was hospitalized for pneumonia; a judge temporarily lifted her grant of protection against her husband so he could be visit her sickbed. The duo wants the order removed permanently, but it hasn't happened yet. This story is so hard to watch. [NYDN]


Hooray, Nicolas Cage only owes $14 million to the IRS, now! [P6]


More evidence that Alec Baldwin and Tina Fey are Jack Donaghy and Liz Lemmon in real life, too: Alec is co-hosting the Oscars this year, and he apparently got Tina her first-ever presenter gig there. [NBN second item]


A-Rod's got a "new mystery blonde," but how do we know it isn't the same old "mystery blonde," without pictures to compare and contrast? They rode around Miami Beach on a yacht together; he ripped off his shirt and worked on his tan, but she kept her sweater and jeans on. Then he went to a meal with 25-year-old Elaine Spottswood, who is blonde but not a mystery, since we saw her without her pants on, once. [NYDN]


Michael Lohan left his pet dog at the vet for ten days, rendering it "abandoned." This man has no paternal instincts whatsoever. [TMZ]


Jessica Alba got "70 percent" of her home furnishing off Craigslist, which must have been a strange experience for the sellers. [Popeater]


The Harlem Globetrotters' rival, the Washington Generals, tried to recruit Conan O'Brien for their team. Pioneered first by the porn industry, the stunt job offer PR gambit appears to have migrated to the mainstream. [TMZ]


Jennifer Lyon, who placed fourth on Survivor: Palau, died at home in Oregon after a battle with breast cancer. She was 37, and fundraised for breast cancer research until the end of her life. [People]
Figure 1.