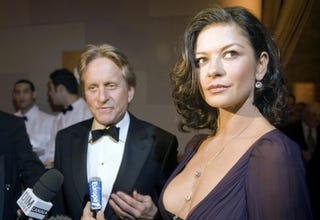 Michael Douglas unlocks the nuclear secret of how he keeps up with Catherine Zeta-Jones. Kim Kardashian gets punched in the face. Julianne Moore and Annette Bening make out. Everyone tries to cast the Game Change movie. TGIFriday gossip.
Michael Douglas finally answered the question on everyone's mind: How does his old penis keep up with Catherine Zeta-Jones? "God bless her that she likes older guys. And some wonderful enhancements have happened in the last few years—Viagra, Cialis—that can make us all feel younger." Fittingly, the interview was with AARP. He told their entire love story, which apparently began with this sentence: "I want to father your children." Happily, even the worst come-on can be overcome with romance, perseverance, and giant bags of money. [AARP]


Kim Kardashian was in a charity boxing match, and stepdad Bruce Jenner laughed with a bit too much mirth for comfort. Kim had "never been in so much pain in all my life." She got a few good shots in; you can watch it here. (The embed insisted on autoplay, which I can't stand. The worst is when you have a zillion tabs open and you're not sure which is creating the terrible noise. I usually panic and quit the whole browser, then start over again.) [Us]


Sharon Stone was photographed with two black eyes yesterday. [fig.1] Unless she made a surprise appearance at Kim's boxing match, I'm thinking plastic surgery. [Radar]


Speaking of plastic surgery, Heidi Montag is afraid to face her mom with her new face. Doesn't her mom have a TV or the internet? "Especially with the cameras rolling," Heidi adds. Oh, I see: Fake-afraid of your mom's fake-reaction to your fake-face. Her life is an existential riddle. [NYDN]


Meanwhile, Heidi's new album has sold fewer than 1000 copies on iTunes. This number is so small I almost think it's a fluke. Couldn't that many people have accidentally clicked on it? What if the real number is zero? [Celebitchy]


Jets owner and Johnson & Johnson patriarch Woody Johnson finally talked about daughter Casey's death. He's still pretty shaken up: "It's two different worlds. One doesn't help the other. The other is reality. There's no way to bring her back. I wish I could change it, but i can't." The timing is difficult, too: "It's been a see-saw in terms of (grieving and) the business of the team," which is on a winning streak and could end up in their first Super Bowl in 41 years. [Post]


Red! Hot! Lesbian! MILFs! Annette Bening and Julianne Moore kiss in The Kids Are Alright, which premieres Monday at Sundance. They play lesbian moms. [P6]


Is Mischa Barton broke? Three months behind on her $7000/month Walker Street loft, she cleared out and made herself scarce. No love lost with the neighbors, though, who say she was noisy. [P6]


Bristol Palin says Levi's deadbeat and is suing retroactive child support from the loot he made on his Playgirl-related media blitz, the sum of which she thinks comparable to what she and her mom earned posing on the cover of In Touch. ($100K) [TMZ]


Denzel Washington went to the Strand because he's redecorating his apartment but "didn't want to rely on a decorator to choose books to fill one of the rooms." Instead, the Strand's managers helped him choose the 300 volumes necessary to fill his new, decorative bookshelves. Isn't that equally superficial, just with a better sense of intellectual shame? Then again, if I was rich and had a lot of space, asking someone smart to give me a list of 300 awesome books so I could buy them all and see which happens to strike my fancy might be fun. [P6]


HBO optioned Game Change, that sneaky book about 2008 that reveals the Edwardses as power-hungry liars and Harry Reid using the word "Negro." Anyway, Page Six started a campaign to cast Rosie O'Donnell as Elizabeth, which I can't quite get behind. Maybe Mary Kay Place (Chloe Sevigny's mom in Big Love) could gain a little girth for the role? [fig.2] The Daily Beast wants Felicity Huffman for Rielle and Shiloh Jolie-Pitt for Frances Quinn, which I support. [P6] [TDB]
Figure 1.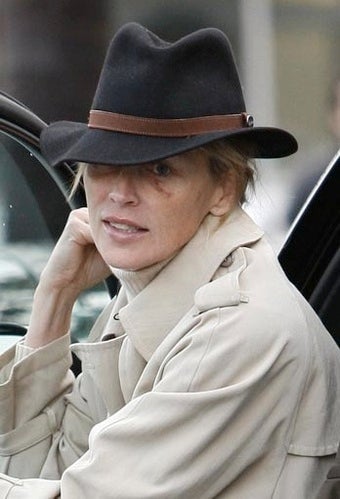 Figure 2.