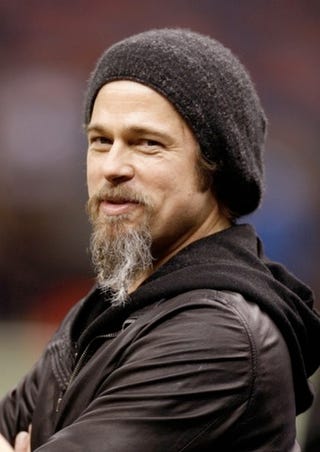 Which of Brad Pitt's body parts bodes well for Brangelina? Bill Gates dances on a banquette. Topless Donatella Versace shows us what young Hollywood will look like in old age. Natalie Portman has a scandalous new beau. Tuesday gossip cometh.
Brad Pitt's beard has been spotted at the L.A. home he shares with Angie [fig.1] which sounds promising for the couple's future because (a.) residing in shared home = still trying (b.) first things guys do when they break up is change their facial hair, so he's probably still with her. Unless it's bad that he was in the car alone? [TMZ]


Bing threw a party at Sundance and Bill Gates got sloshed, and then got down, Paris Hilton-style, by dancing on a banquette. Said one witness: "He gyrated in a VIP booth until 2A.M. Everybody was snapping photos of him." The A.V. Club's Nathan Rabin: "It was a sight to behold: the richest man in the world attempting to clap in time and failing miserably while lurching awkwardly in seizure-like contortions." [P6] [AVC]


...and here's an obligatory gallery of Bill Gates dancing and talking to girls. [Radar]


Oh dear. Donatella Versace Donatella Versace's long-time doppelganger took off her bikini top in public, and everyone saw what all the world's starlets will look like in a troubling, cosmetically-altered future, their breast implants swimming in sun-damaged skin without an ounce of fat to soften the blow. [fig.2] Will Heidi Montag slow her plastic surgery addiction if she sees this? I don't like gaping at an old lady's body, but I also cannot let this pass without witness. [Superficial]


Ellen DeGeneres and Simon Cowell are having a spat, says Deadline Hollywood, because Simon was an hour and a half late to their first day of taping American Idol, and Ellen's too busy to put up with that. So she told Fox's honchos to hurry up finding his replacement, but Idol and X Factor—the show Simon is leaving them for—want the same judge, Sony Music chief and Mariah Carey ex Tommy Mottola. Everything is gridlocked and topsy-turvy, but since they all earn millions of dollars every time they blink, it's hard to get upset about any of it. [Deadline]


Speaking of which, ABC is apparently offering Paula Abdul a $1,000,000 development deal, but only if she appears on Dancing with the Stars. But she was a professional dancer-choreorapher, so isn't that cheating? Makes it a bigger choice for her, too, since she can't just flub her way to a first-round elimination. [TMZ]


Nancy Kerrigan's brother Mark pled not guilty to fatally assaulting their father yesterday. According to the police report, Mark "appeared intoxicated" and had to be pepper sprayed. [TMZ] [TMZ]


Octomom's bundle o' babies turns one today, and she's celebrating by selling the home video of their birth to Radar. Apparently they thought were only seven, but then—surprise!—an eighth appears at the last minute. I keep expecting her to break into song or something. [Radar]


Free and clear of Devendra Banhart, Natalie Portman's love life has switched from the musical Hair to the movie Center Stage. The actress is reportedly dating New York City Ballet dancer and choreographer Benjamin Millepied, who was allegedly in the thick of a three-year, shared-apartment relationship with a ballerina from the American Ballet Theater when he started seeing Natalie. Yikes. [P6]


Celebrity Good Samaritan: Jennifer Aniston donated $500,000 to Haiti. [E!]


This is a surprise: Realizing the power of the multimedia interwebs, Page Six embeds a vintage recording of Andy Dick being disgusting to a Post reporter in their item about Andy's latest allegedly pervy arrest. So, if you want to hear Andy Dick offer to lick various parts of reporter Mandy Stadtmiller's body, click through. [P6]


Tiger Woods' daughter's kindergarten hired an off-duty cop to protect the kiddies from crazed paparazzi, which must be traumatic for her, but fun for all the other kids whose cops 'n' robbers games just got cooler. [TMZ]
Figure 1.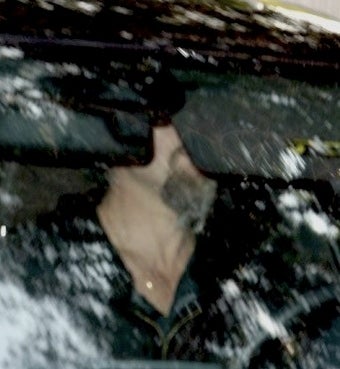 Figure 2.