People can't help themselves from twittering about celebrity deaths. But when a literary figure dies, it tends to inspire a particular brand of not-totally-selfless grief. Or they just get totally bizarre.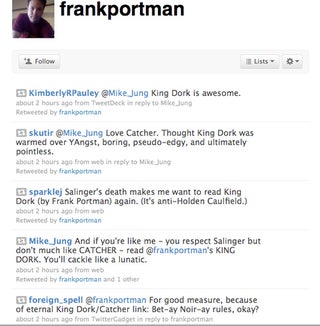 S
King Dork author Frank Portman decided to remind everyone how much his book reminds people of Catcher in the Rye.

S
One Story contributor Elliott Holt knows how to read Salinger in Russian.

S
Wall Street Journal reporter Katie Rosman went to Yaddo.

S
Novelist Mat Johnson interviewed Margaret Salinger and left tantalizing hints of FILE CABINETS FULL OF UNPUBLISHED MANUSCRIPTS.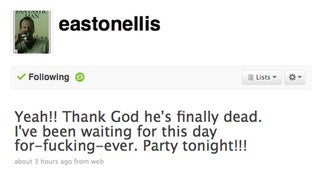 S
And Bret Easton Ellis was just... weird.