S
Chris Lehmann traded place with his wife Ana Marie Cox; Molly McAleer traded places with Rahm Emanuel; and Alex Payne's messages to Twitter.com traded places with Twitter.com's messages to Alex Payne. The Twitterati got the old switcheroo.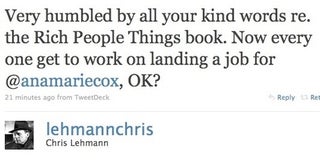 S
Former Congressional Quarterly writer Chris Lehmann found gainful employment just in time for his wife to lose hers. Anybody feel like buying the corpse of Air America?

S
Former Defamer and Greater Hollywood Area tingling internet sensation Molly McAleer normally does not self-censor her tweets, but this one's now gone, presumably out of fear bedridden protocelebrity pimp Julia Allison would totally Rahm her.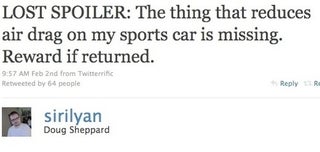 S
Canadian programmer Doug Sheppard has a better sense of humor than anyone on that stupid island. (Except maybe Hurley.)

S
There are surely any number of ways to communicate with a non-cooperative Twitter server, but this time Twitter engineer Alex Payne went with "English."

S
Five of whatever Jack Dorsey's drinking, barkeep.


Did you witness the media elite tweet something indiscreet? Please email us your favorite tweets - or send us more Twitter usernames.