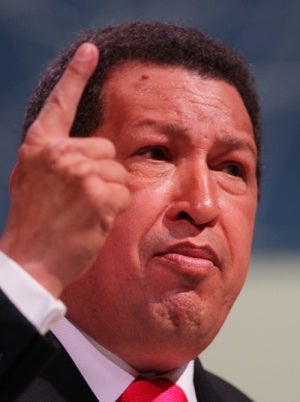 You can always count on Venezuelan dictator-president Hugo Chavez to say something stupid. Last month, for example, he claimed a U.S. weapons test caused the Haiti earthquake. Now he's launching a radio program to be broadcast whenever he wants!
The AP reports that Chavez launched the program—Suddenly, With Chavez—today on state-run Venezuelan National Radio. The show "doesn't have a schedule and can be aired at any moment." Which means you all should tune in right now so you don't miss any of the highly entertaining rhetoric that spills from Chavez's mouth all the time.
Here are some of our favorite funny things Hugo Chavez has said:
"The devil came here yesterday," Chavez said, referring to Bush, who addressed the world body during its annual meeting Tuesday. "And it smells of sulfur still today." [CNN]


"Hey, Obama has just nationalized nothing more and nothing less than General Motors. Comrade Obama! Fidel, careful or we are going to end up to his right," [Reuters]


"Remember, little girl, I'm like the thorn tree that flowers on the plain. I waft my scent to passers-by and prick he who shakes me. Don't mess with me, Condoleezza. Don't mess with me, girl." [BBC]


"The imperialist, genocidal, fascist attitude of the US president has no limits. I think Hitler would be like a suckling baby next to George W Bush." [BBC]



Can't wait!