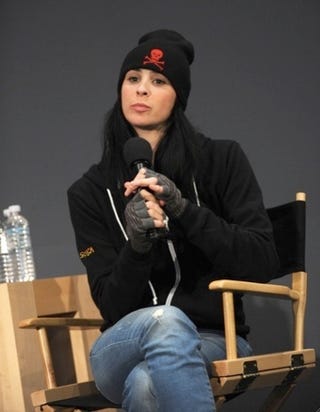 Sarah Silverman unleashes the rage of a thousand indignant female fans on an ex-boyfriend. Brangelina sues News of the World for the break-up rumor. I hereby nominate Kevin Federline to date Kate Gosselin. Tuesday gossip just wants to be loved.
Exes are generally not to be trusted, but these underhanded jabs are too good to pass up: Sarah Silverman says Jimmy Kimmel never told her she was pretty, a comment begging to be brought up in every women's magazine she does from here to the end of time. Sarah's new boyfriend, Family Guy producer/writer Alec Sulkin is "the first guy in a decade who's given me any kind of compliment, like saying I'm pretty or anything." She adds, "Usually I like pudgy, macho-ish guys. But I think I mistook macho-ish for strong, emotionally. And I think it's really the opposite." Hear that, Jimmy? You're a fat crybaby, too. [Popeater]


Brangelina are suing News of the World for those break-up rumors. Explaining the damages, Brangelina's lawyer explained that the rumors were "widely republished by mainstream news outlets." They dotted the exclamation point with a public kiss at the Super Bowl. [BBC] [JJ]


Playboy shareholders are suing Hugh Hefner for being too much a playboy. The lawsuit includes a consulting firm's assessment: "We think the wildcard here is Hugh Hefner... If you were Hugh Hefner, 81, would you give up the parade of busty blonds, the fancy mansion and the reality TV show for a payout?" Silicone breasts, meet cold, dead heads. [TMZ]


New details from Jennifer Aniston's Cabo San Lucas birthday celebration: 50 Jen friends, including Gerard Butler, came to One & Only Palmilla resort, where Jen is staying for $9000 a night in a one-bedroom villa with a staff of 12, including two butlers and a chef. There's a private spa, infinity pool, "an outdoor rain shower and day beds" so Gerard will have somewhere to stay when he pretends to be sleeping with Jen. Sheryl Crow and Courteney Cox are there, and everyone's drinking margaritas and eating guac. [P6]


"Rapper Nelly took a punch trying to break up a brawl between his bodyguards and bouncers." This is precisely the opposite of what people in those two career fields are supposed to do. [P6]


When Britney Spears arrived at the UCLA Medical Center's Mattel Children's Hospital emergency room, her publicist issued a statement: "Everything is fine. Britney is there for an annual physical." Like her mental and emotional states, Britney's health froze during her teen years. Why else see a pediatrician at the age of 28, after bearing two children of your own? [X17] [E!]


Diane von Furstenberg on rough patches with billionaire husband of contested sexuality Barry Diller: "I did leave him, and I went with other men, but they always ended up being jealous of Barry." [P6]


Gossip Girl costars Ed Westwick and Jessica Szohr: Not broken up, according to their tongues, which spent Maxim's Super Bowl party intertwined. [P6]


Rachel Uchitel gave a hard-hitting interview to Saved By the Bell's A.C. Slater, and revealed that she went to the Gossip Girl high school. She mistakenly says it is also "the Mean Girls high school," but that was set in suburban Chicago, not New York. At that point and in a huff, I quit watching, but if any of you can handle the boring terror that is Uchi Cuchi Coo smirking nervously at Mario Lopez, let us know if she says anything interesting. [Extra]


Kate Gosselin and her hair wrote a new book. I Just Want You to Know: Letters to My Kids on Love, Faith and Family features an unrecognizably young, soft-looking woman on its cover. [fig.1] [People] [Amazon]


K-Fed says he'd "definitely" marry again. Ladies, start your engines. [People]
Figure 1.