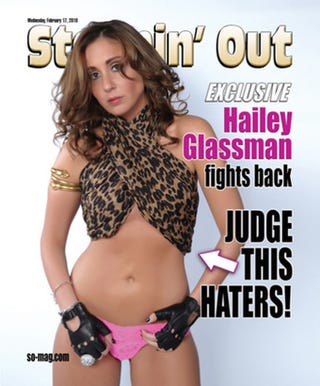 Hailey Glassman lands the lowest of blows and a terrifying magazine cover. Should Alec Baldwin blame his hospitalization on his ex-wife or his daughter? Suri Cruise wears lipstick. Quentin Tarantino wears out his welcome. TGIFriday gossip.
Hailey Glassman is deeply cruel. She told Steppin' Out magazine that ex-boyfriend Jon Gosselin's penis is "three inches" long. "He's hung like a nine-year-old boy," she says, "tiny, tiny, tiny." Apparently she was even meaner when they were dating: "I would tell him to his face, 'I don't think you would cheat on me because you're so small.' I would tell him that all the time.'" She says she made him feel "subconscious" about his genitals. For reference, this is the lady Jon accuses of breaking into his apartment and pinning a "Hailey did this" note to his desk with a butcher knife. Her Steppin' Out cover features an arrow pointing to her naked torso labeled "JUDGE THIS HATERS!" Why would you invite that when you are wearing a leopard-print swaddling cloth for a bra? [Us]


The 911 call that put Alec Baldwin in the hospital did not originate from New York. The caller, Baldwin's daughter Ireland, called the authorities based on an alleged suicide threat made by phone, Fox411 reports. Baldwin's publicist says it was a "misunderstanding on one person's part." [Fox411]


But is the "one person" bearing blame daughter Ireland or ex-wife Kim Basinger? The Daily Mail says it's Kim. "This is another example of Kim's sickness. Alec came back from the hospital and there were cameras outside his house at 2AM. Gee, I wonder how they found out?" asks a "source" who kindly disguises hatred for Kim with vague concerns for her mental health, right after arguing that other people's public challenges to Alec's mental health are unfair and damaging. [DailyMail]


Kelly Bensimon is wrapped in a shiny red scarf on her upcoming Playboy cover [fig.1] a sort of More magazine approach to elegant woman-of-a-certain-age photography. Kudos to Playboy for being age-appropriate with their smut. [Popeater]


Much like her grandfather Roald Dahl, model-turned-cookbook author Sophie Dahl has "nightmares and dreams involving food." [P6]


"Benicio Del Toro Enjoyed Wearing Makeup!" Oh no, someone call the gender norm police. Shooting The Wolfman, "I enjoyed putting on the make-up because it's happening and you see something growing and at the end it's the flower." Lost cause. [ShowBizSpy]


Poking priceless paintings: It's all the rage. Deep in conversation with Harvey Weinstein, Quentin Tarantino "casually leaned" on a $1M painting at the home of art dealer Nathan Bernstein. Awk-ward. [P6]


More pictures of Suri Cruise wearing lipstick. Also, a picture of her shopping for makeup and wearing impractical clothes on an outing with her mother. She's like Sex and the City for three-year-olds. (That is, without the sex.) [DailyMail]


K-Fed got his groove back. After years of corpulence, the former professional dancer is dropping the pounds on Celebrity Fit Club, and shot a video of himself relearning how to dance. He is pitching a reality show about his "comeback," which we ought not encourage. Hard-working chubster K-Fed may be charming, but as soon as his six-pack returns, so will his odiousness. [TMZ]


An administrator for Frances Bean Cobain's trust is investigating Courtney Love to see if she spent Frances Bean's on herself. Essay question: Does this revelation change the conclusions we draw from this Courtney Love quote in Spin? "I married a guy, he killed himself, I inherited everything. That's the way it goes." Why or why not? [TMZ] [P6]


Kourtney Kardashian tasted her own breast milk. Khloe tweeted the news so we could all know how "Ummmm TMI" her sister is. [HuffPo]
Figure 1.