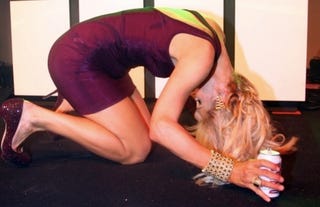 Unless it's a dance craze called "the boozy ostrich"? Madonna celebrates Carnival with Jesus Luz. Britney celebrates V-Day with saturated fats. Simon Monjack dismantles his Brittany Murphy charity. Heidi Montag finally moves her face. Monday's gossip roundup is hungover.
Now, we can't be sure, but it is within the realm of possibility that Paris Hilton got drunk while promoting Brazilian beer on Valentine's Day. The photographic record shows Our Fair Lady Hilton dancing on 5-inch heels, then stumbling, then knocking over a banquette, then resting her forehead on the ground on her hands and knees. But she never lets go of the beer can. Talented shilldebeast or reckless alcoholic? Boyfriend Doug Reinhardt is there at first, but as soon as Paris starts wobbling, he vanishes. Mean or understandable? [3am]


Madonna did a Valentine-Carnival twofer with Brazilian boyfriend Jesus Luz and daughters Lourdes and Mercy. She wore a Carnival mask, but, Madge, we totally know it's you! You forgot to take your crucifix off! [fig.1] In other news, Mercy swam in the hotel pool and looked adorable. [fig.2] [DailyMail]


Also at Carnival: Paris again, dressed this time as Barry Manilow's titular Lola with feathers in her hair, yellow dress cut down to there. And Gerard Butler, hanging out with fellow 300 hottie Rodrigo Santoro and taking his shirt off. [DailyMail] [JJ] [JJ]


Britney Spears and boyfriend/agent Jason Trawick went to the McDonald's drive-thru for Valentine's Day. Man of her dreams. [JJ]


Good news! Heidi Montag can move her face again. She celebrated by making blowjob mouth at a bunch of cameras. [HuffPo]


Kim Kardashian's entire life is an extended pun about her butt. "Kim Kardashian's Expanded Empire" goes Page Six's headline. "Curvy Kim Kardashian's business empire keeps getting bigger." Her assets and arears are a globular phenom-nom-nom. [P6]


Simon Monjack-Sharon Murphy scam "The Brittany Murphy Foundation" is giving back all the money it collected without registering as a charity or nonprofit. They say they were mere a "private foundation," i.e., funnel straight from grieving fans' pockets to theirs. [TMZ]


Bachelor finalist Gia Allemand has a boyfriend, who didn't notice she was on famous TV show until now? Odd. [P6]


Perpetual hip-motion machine Shakira and tennis heartthrob Rafael Nadal were sitting at a hotel in Barcelona K-I-S-S-I-N—okay, no, they were eating and "shooting a video." Shakira has a fiance and Rafa has a girlfriend, so "definitely looked like they are more than just friends" is open to interpretation. Especially since Nadal's handlers were there. [P6]


Vivid Entertainment, America's chief blackmailer of beauty queens with sex tapes, has sunk to an unthinkable low: They have offered John Mayer a job. In Mayer's infinite Playboy interview of racist/sexist terror, he said his "dream" is to write porn, so Vivid is now inviting him to do so. [TMZ]


My Sharona singer Doug Fieger—lead singer of '70s disco band The Knack—died at after a battle with brain cancer late Sunday. He was 57. [HuffPo]
Figure 1.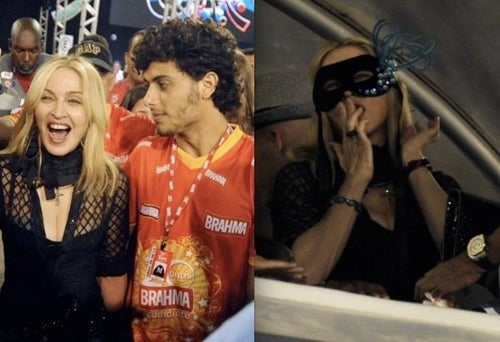 Figure 2.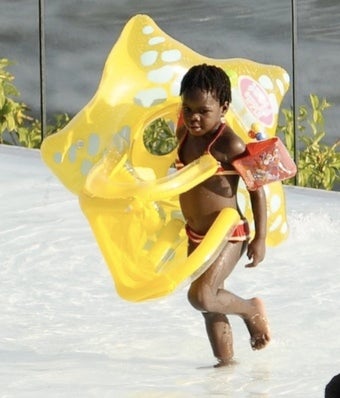 [
Paris image via Splash, Madonna via Getty, Mercy via Bauer-Griffin
]