S
The founder of bankrupt Veoh looked for a place to crash; Palm's chief flack cracked wise about the stock; and John Mayer saved himself from being heckled at the gym. The Twitterati adjusted to sudden reversals.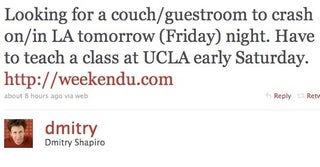 S
Dmitry Shapiro was the CEO and founder of internet TV startup Veoh, through the bankruptcy liquidation the company announced earlier this month. Now he's in need of a place to sleep.

S
Palm PR chief Lynn Fox made a joke about her company's revenue shortfall. Her company's investors did not laugh.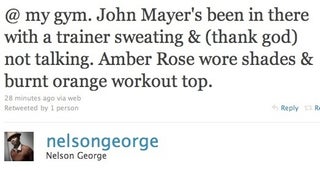 S
Author Nelson George enjoyed the sound of race-baiting singer John Mayer shutting the hell up.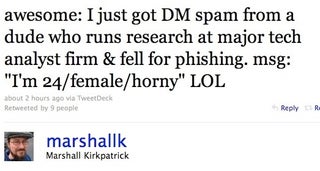 S
ReadWriteWeb's Marshall Kirkpatrick finally considered buying some research reports.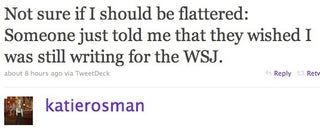 S
Wall Street Journal reporter Katie Rosman appreciates the sentiment. Maybe.

Did you witness the media elite tweet something indiscreet? Please email us your favorite tweets — or send us more Twitter usernames.