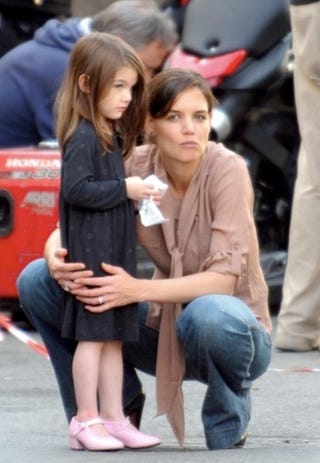 She did this before getting knocked up with Suri—but what if she's trying to buy Suri's freedom? Tiger and Elin share a home, Jude Law meets his love child, Courtney Love terrifies again. Monday gossip has mixed feelings.
Katie Holmes has been spending a lot of time at the Hollywood Scientology Center, which means they are probably anointing the thousand sacrificial virgins necessary to spawn a second Suri Cruise Hubbard Jesus as we speak. Reports a Page Six embed: "This is exactly what happened just before she got pregnant with Suri. Tom has made no secret of the fact that he would like another baby." X17 made the same guess last week. Creepy as the collective Holmes-Cruise silent labors are, I cannot oppose a process that creates creatures this adorable. Besides, how do we know she's not gearing up to leave Tom, and is actually in the process of negotiating her freedom? You can do it, Katie! Gather your Suri and run. [P6] [X17]


Tiger's back in sex rehab, but not in Mississippi, says Page Six, which has the recovering addict getting "private therapy sessions out of a home in Cave Creek, Arizona." Biggest shocker: Elin was briefly staying with him in the sexual halfway home. This is the first (relatively) credibly sourced report of Tiger and Elin sleeping in the same domicile. But if it's his sexual halfway home, then he's probably still in the "plant" phase of "plant, pet, person," which means there was no make-up sex (can there ever be, given the circumstances?) so who knows where this is all going. [P6]


Jules Kirby, the High Society blonde who admits to using "the n-word" in the forthcoming reality show's trailer, came to her senses and realized she won't be the ingenue of this show (that's Tinsley Mortimer's job) but the villain. And so Jules refused to come to the premiere, and is being diva-ish and deliciously villain-y, already. [P6]


Paula Abdul isn't doing Dancing with the Stars, which is too bad for her because she could've snagged a $1M deal if she did it, but good for America because I am sick of ringers winning every season of DWTS. She's a professional dancer with a side of vocal chords. Putting her in an amateur dance competition is cheating. When it comes to televised competitions for washed-up celebrities, my code of ethics is strong. [TMZ]


Jude Law met his five-month-old love child for the first time, which is sort of a long time to wait before meeting your baby? Model Samantha Burke had a messy tabloid war with Jude last summer, and I'd totally forgotten about it until now. And so had Jude, apparently. Baby and mama are now in Miami. [DailyMail]


Can somebody please stop Courtney Love from going out in public? She went to Roberto Cavalli's Milan Fashion Week show looking like this [fig.1] and I can't not post a picture like that when I see it. It's a compulsion or something. Not until someone locks Love up and throws away the key will I be cured. [DailyMail]


On a very different, and somber note: Marie Osmond's son's suicide note has been recovered since the eighteen-year-old's death on Friday. He called the female friend who found him "his only good friend in L.A." and described profound depression. Michael Blosil was a student at FIDM. [People]


After a Miami concert, Jay-Z took Beyonce, Diddy, and A-Rod with him to gorge on "bowls of spaghetti" at Scarpetta, either because performing requires carbo-loading, or because attention is a drug and afterwards you get the munchies. [P6]


Oh, gross. An odd-eyed, pouty-lipped, double-hoop-earring-wearing college kid who made out with Real Housewife of Orange County Vicki Gunvalson (the crazy one with bugged eyes) gave an interview to Radar: "I like the cougars." "She's got good experience." "She's got a nice body, nice boobs." Yuck. [Radar]


Radar says Simon Cowell's fiancee's engagement ring is "large without being garish" but I bet to differ. Diamonds that large are inherently garish. As is being Simon Cowell's wife. It's a truth she has already come to terms with, I am sure. (Aided perhaps by the size of that diamond?) [Radar]
Figure 1.