S
Brandee Barker couldn't use her competitor's search engine; Brad King was called a 'nerdy dipshit;' and Karl Lagerfeld got tired of having to defend himself. The Twitterati were wryly war weary.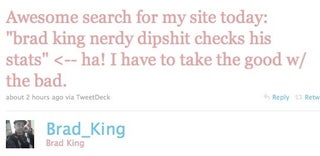 S
Someone sent journalism professor Brad King a message in a cyberbottle. (Warning: Never open cyberbottles.)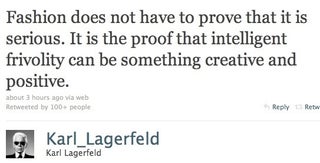 S
Designer Karl Lagerfeld isn't being defensive, YOU'RE being defensive.

S
Virginia Madsen wants to know where she can stick her iPhone. She should be careful who she asks.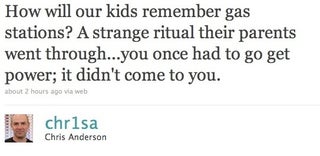 S
Wired editor Chris Anderson's fantasy about the future utterly failed to account for jet-pack usage. Tsk, tsk.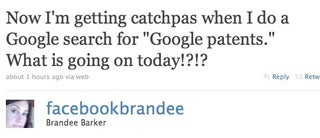 S
Just because Facebook flack Brandee Barker isn't being paranoid doesn't mean Google isn't out to get her. (Also, "catchpas" is our new favorite word.)

Did you witness the media elite tweet something indiscreet? Please email us your favorite tweets — or send us more Twitter usernames.