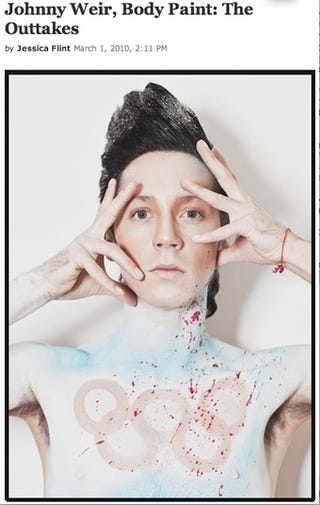 Weir explains his creative process. Jessica Simpson cries on Oprah's couch. John Mayer can't get a date. Kristen Stewart and Rob Pattinson grope each other in public. Johnny Depp fears mirrors. Tuesday gossip is the window to celebrity souls.
Johnny Weir's condition for being photographed by Vanity Fair: He must be wearing body paint. It must be Lady Gaga-esque. VF blew Weir's "Faces of the Games" portrait into its own story and slideshow: "Johnny Weir Body Paint: The Outtakes." We discover Weir is a shrinking violet when cameras are not present, and that "just like a tip of a tail of a fox" barely counts as wearing fur. Which reminds me of this game called "just the tip," which skanky teenagers use as a workaround for preserving their virginity, and is an apt metaphor for one or more of the following: Johnny Weir's sexuality, Johnny Weir's public image, the way Vanity Fair consummates buried ledes who wear bodypaint. [VF]


John Mayer: Addicted to controversy. The day after his latest apology for that atrocious Playboy interview, Mayer was back in action, "saying vulgar things to girls" at bars. An "insider" says John's self-destructive loquaciousness is compulsive: "After every interview he gave, John would agonize over it and mentally kick himself over everything he said. He would swear it would be the last time, but it never was, and it became a never-ending cycle." John's controversitis is killing his love life: "She definitely didn't go home with that sleaze." [NYDN]


Speaking of Mayer, Jessica Simpson will cry over him on Oprah today: "I don't want people to know how I am in bed." Being known as John Mayer's "sexual napalm" is a terrible, horrible fate, but when I look at pictures of Jess blubbering about it, [fig.1] I simply can't drum up sympathy. It's like Jessica's sense of martyrdom is so pure and all-encompassing that my subconscious instinctually recognizes its exertions are not needed. [DailyMail]


Kristen Stewart and Robert Pattinson got gropey at a restaurant in Tribeca and everyone stared. People, how many times do we have to tell you: You do not stare when you witness this sort of thing. You pull out your cellphone and send the picture to tips@gawker.com. [Gatecrasher]


Johnny Depp has terrible self esteem and cannot stand the sight of his own face. "I tend to avoid mirrors at all costs. I hate the, can't look at myself." It crippled his ability to rehearse his Mad Hatter "happy dance" for Alice in Wonderland. [ShowBizSpy]


Billy Baldwin is in New York filming a long-lost father plotline for Gossip Girl, but his personal life is more dramatic, because wife of eighteen years Chynna Phillips filed or divorce on Friday, while he was away, only to change her mind and take it all back on Sunday. Chynna just finished hospitalization for anxiety (prompted at least in part by the revelation that her sister and father were in an incestuous relationship for ten years) and Lizzie Grubman—who represents both Chynna and Billy—chalks the near-divorce up to the "ups and downs" of marriage. [P6]


Brittany Murphy left her entire estate to her mother and not a penny to husband Simon Monjack, says Simon. This may explain why he's hanging around Sharon Murphy so much. Sharon just put Brittany's home on the market for $7.25M. [TMZ] [TMZ]


Suze Orman and the Rich Dad, Poor Dad guy had a Twitter fight. "I can't believe this lady. No way in hell she believes what she teaches," said Robert Kiyosaki. "I did not lead millions of peple down the path to lose all their money in real estate as you did. Shame on you," snapped Suze. [P6]


Carly Simon's You're So Vain inspiration is not David Geffen, says Carly, who is going to make everyone hate that song if she doesn't stop this incessant spree of titillation. [P6]


DMX is throwing a "gospel rap extravaganza" to raise funds for his church. TMZ notes that he no longer swears, "so we have absolutely no idea what he's going to perform." [TMZ]


A Price Is Right model says she was so horribly harassed for getting pregnant that the stress made her miscarry, prompting a producer to say, "It's nature's way of getting rid of a bad baby." My god, that is callous. Even if it was a poorly executed attempt at comforting. [TMZ]


Toiling-at-the-cusp-of-fame actors Annalynne McCord and Kellan Lutz went on a date, and staggered their exits by 15 minutes so as to throw off the paparazzi. But they failed, and now we know they are totally banging. [P6]


The day after a creepy college kid told all to Radar about making out with her, Real Housewife of Orange County Vicki Gunvalson says it was all a lie, and she never cheated. "He told me it was his birthday and wanted a birthday kiss. He seemed nice, but very star struck!" I find it hard to believe a 20-year-old male who looks like this would recognize a Real Housewife of Orange County. [People] [Earlier: Radar]


Christina Milian gave birth to a bouncing baby girl, Violet. The daughter is Christina's first child and husband The-Dream's fourth. [People]
Figure 1.