John Carney faced an unruly mob; Courtney Reimer faced an extraordinary financial statement; and Shane Richmond faced crazy musicians. The Twitterati could not be predictably rattled.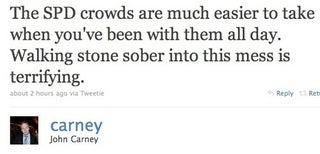 S
Business Insider's John Carney realized he should either skip the terrifying St. Patrick's Day festivities, or immediately start drinking.

S
Yahoo's Courtney Reimer is indebted to you, Amex — for the nice compliment.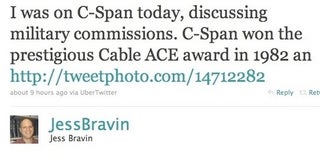 S
After all those trips to Guantanamo, the Wall Street Journal's Jess Bravin wasn't afraid to risk angering those retributive media attack-dogs at C-SPAN. We hear they can be vicious!

S
The Telegraph's Shane Richmond stayed behind at South by Southwest so you didn't have to.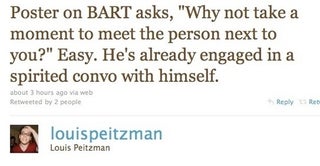 S
San Francisco Bay Guardian contributor Louis Peitzman couldn't get a word in edgewise.

Did you witness the media elite tweet something indiscreet? Please email us your favorite tweets - or send us more Twitter usernames.