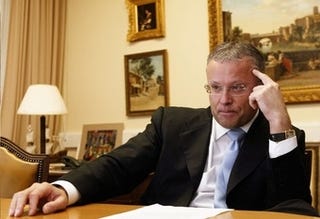 In your copacetic Thursday media column: a Russian tycoon buys a British paper, a new NYT White House correspondent, John Carney is let go, and newspapers in general had the worst year everrrrrrr last year.
Shady-by-definition Russian tycoon Alexander Lebedev has purchased the UK paper The Independent for the low low price of $1.49 (really!). The paper is in bad financial straits, and Lebedev—who has stakes in other true quality news outlets in Russia—says he's doing it to keep the paper's good journalism going. But he's a former KGB agent and, more damningly, a Russian billionaire. So we're sure some nefarious propaganda purposes are hiding in there somewhere.


Jackie Calmes is the NYT's new White House Correspondent. Don't believe it? Why, this memo just went out today!


To the Newsroom:
Jackie Calmes is our new White House correspondent.
There is an opening for a deputy travel editor. Other recent opportunities include a deputy editor opening in Arts & Leisure and an opening on the rim of the Book Review.
Lastly, employees can get discounts to some Nets games.

thanks,
grace

Nets tickets, too!

Foster Kamer reports: John Carney, the popular Clusterstock editor and romance specialist, has been fired by Business Insider boss Henry Blodget. Reasons are vague, but it sounds like an editorial disagreement. Surprising. Shows you what plaudits from us are worth.


Just how bad was 2009 for the newspaper industry? "Advertising revenue fell 27.2 percent, or more than $10 billion, from 2008 – which was, at the time, the industry's worst year since the Depression." So, pretty much the worst year ever! We can't wait to see how 2010 turns out.