Write your own Glenn Beck haiku, Stephanie Pratt is sad that The Hills is ending, Party Down gets a start date, and Fox Sports promises no more old rocker-types performing during the Superbowl's halftime show.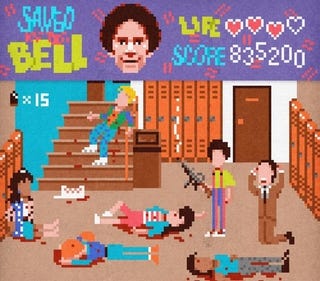 [But you wouldn't like Screech when he's angry, Mr. Belding! Image via Zach Mack's tumblr.]
In TV News...
Here's a fantastic chart showing the programming for TLC, History, and the Discovery Channel.
Not surprisingly, the crew of Dancing With the Stars hates Kate Gosselin.
In this week's Entertainment Weeky, Katherine Heigl acknowledges her bitchy side and that people see her as a diva.
Stephanie Pratt, unlikely voice of reason, is sad that The Hills is ending and promises the best season yet.
In an interview with the AV Club, Chloe Sevigny expressed her opinions on the latest season of Big Love, calling it "awful."
Fox Sports promises no more oldies during their halftime show. Next year the act will not be someone under 60, apparently.
Diddy will perform next week on American Idol's elimination show.
Poetically express your true feelings about Glenn Beck at HaikuGlennBeck.com
Don Johnson is in negotiations to star in an ABC comedy pilot titled "Southern Discomfort." I see what they did there!
SyFy's new series, Saved By Zeroes may have found it's star: Smallville's Michael Rosenbaum.
Here's an exit interview with Survivor's Tyson.
Party Down, a severely underrated and hysterical comedy on Starz, will return to TV on April 23rd.