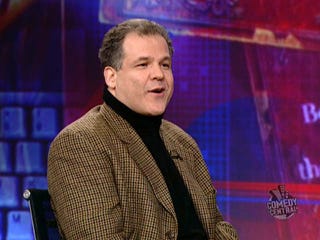 In your magnificent Monday media column: our good friend Sprezzatura joins the NYO, a sexual harassment suit at NY1, Keith Olbermann is arguing on the Twitter, and a blind J-school student teaches us all a valuable lesson.
The NY Observer has hired assclown "National Magazine Award-winning critic and author" and famous online sock-puppet Lee Siegel as its new business and culture columnist. One less "look at this bullshit" post we have to think up per week.
Former NY1 anchor Adele Sammarco is suing NY1, alleging sexual harassment. She said she was groped by a fellow reporter, and that another reporter passed a crude doctored photo of her around the newsroom. NY1 says she was fired for not being good at her job. Both could, theoretically, be telling the truth.
Keith Olbermann is on the Twitter and already he is getting into Twitter spats with random people who call him a dumbass and being like, no, you sir are the dumbass (on Twitter). Keith Olbermann's Twitter will bring down the Tea Party (on Twitter).
Ashley Welford-Costelloe, a blind journalism student at Conestoga College, is reportedly "doing well" in her photography class, simply by having someone tell her where to point the camera. The local paper says this shows "that if you're determined to do something, almost nothing can stop you." One might argue instead that it shows that photography is easy; or that Conestoga College is, yes, easy. Still, this is valuable pre-employment exposure for any J-School student. Kudos, Ashley, on picking an easy school.