S
Kim Severson pioneered dark food humor; Young Platinum pioneered a new level of Twitter transparency; and Melissa Gilbert gave Sac-town a pioneer's compliment. The Twitterati led the bandwagons.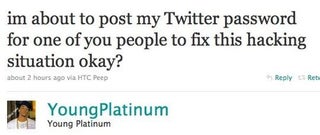 S
New York Times food writer Kim Severson couldn't resist a little culinary-convict humor.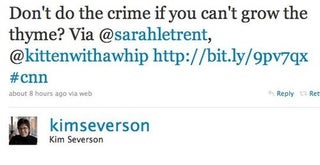 S
When you're a old, agricultural town in California's Central Valley, trying to obtain some cosmopolitan credibility, this sort of compliment from a star of Little House on the Praire is faint praise, indeed.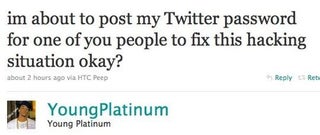 S
Young Platinum got tired of the kind of technical support you have to pay for.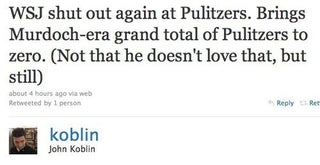 S
On Pulitzer day, who will shed a tear for monster mogul Rupert Murdoch? The New York Observer's John Koblin, that's who.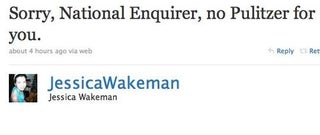 S
And who will cry for the National Enquirer? Maybe The Frisky's Jessica Wakeman.