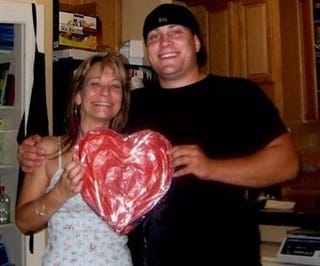 Daniel Ruf died of "multi-organ system failure" while desperately exercising to join the Marines. His mother is now suing the recruiters, alleging they forced him to wear a "plastic suit" and work out in 100-degree-plus temperatures.
Audrey Ruf, Daniel's mother, filed a six-page wrongful death suit against the United States and two Marine Corps sergeants in federal district court this week. She says Marine Corps recruiters took her son to a local gym in Tracy, Calif. last July, put him in a plastic body suit, and had him work out in 100+ degree temperatures.
Daniel collapsed. By the time paramedics arrived his body temperature had reached 108 degrees. He was admitted to the Sutter Tracy Community Hospital emergency room for heat stroke on July 15th. Two days later, he was transferred to California Pacific Medical Center for a liver transplant, and three days after that, he died.
According to his medical records, Daniel had been found unconscious at the gym, wrapped in a plastic bag and scuba diving gear (for "better sweating") and had been taking diet pills and diuretics to "aggressively lose weight:"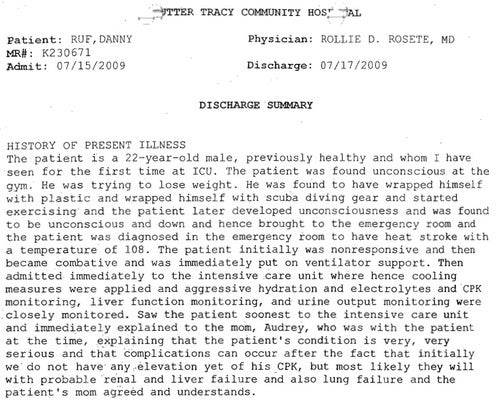 Two days after Daniel's death, the San Francisco medical examiner conducted an autopsy and determined multi-organ system failure due to hyperthermia, dehydration, and "exercise with occlusive gear" as his cause of death. The coroner's report also said Ruf was "moderately obese;" his Body Mass Index was 34.3 and he weighed 226 pounds—45 pounds over the military cut-off for a 5-foot-8 male: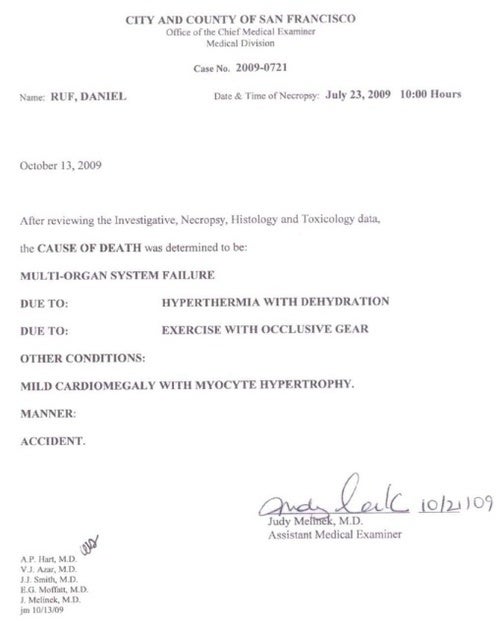 The medical examiner ruled Daniel's death an accident, but his mother is now suing and seeking damages for negligence and wrongful death to recoup Daniel's medical and funeral expenses. When he died, Daniel had no health insurance and was on "non-pay status" with the military, meaning he was not entitled to medical care or death benefits. A review of Ruf's hospital bills show Daniel's treatment alone racked up more than $57,000 in costs.
Ruf also filed a tort claim with the government in September (which her lawyer says went unanswered except for confirmation it was received) and a Marine spokesman had told reporters after Ruf's death that an investigation was underway. The government now has 21 days to file its initial response to the lawsuit in court. In the meantime you can read Ruf's full, original complaint here: