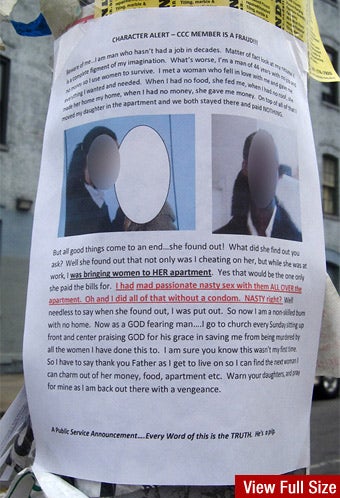 Andrea says she met Michelle when she realized they shared a boyfriend. She says he two-timed them in the same bed, without condoms, during Michelle's period, so they teamed up to humiliate him. Michelle says none of this is true.
From Bedford-Stuyvesant to Williamsburg, the above poster decorates telephone poles and public spaces. We don't know whether Andrea invented the sordid love triangle in her mind, or really lived it—but either way, this is why she's doing it.
When Andrea saw last week's post about her poster campaign, she joined our comment forum under the name RighteousWoman2 and called to take credit. According to Andrea, hers is a story of broken hearts and a sisterly bond forged in adversity. According to Michelle, it's the invention of a distant acquaintance's "obsessive" mind.
"I don't know her," said Michelle, who eventually admitted, "We had a friend in common. I had taken her [Facebook] friend request. I heard through the grapevine she was not the best friend to have, so I defriended her."
"We had a great time," Andrea said of the night she and Michelle spent wallpapering Brooklyn with scorched-earth messages about a man named David. (Andrea gave us David's phone number; he did not return the call.) They made a video with Andrea in front of the camera and, she said, Michelle behind it, speaking off-camera. They put it on YouTube under the name Notdisgruntled. (I spoke to Michelle on the phone, but I can't tell whether or not the voice on the video belongs to her.)
"If women stick together a little better, that is how you stop [men] from getting away with it," Andrea told me. "I just want women to be mindful that we have to take care of ourselves."
Andrea said she and David lived together in Bed-Stuy until she realized, on Wednesday night, that he was cheated on her. He moved out on Thursday, and on Friday she began her campaign postering all of Brooklyn, including Williamsburg (as was initially reported) because, "He's all over Brooklyn. He's in Williamsburg, he's in Flatbush, he's in Bed-Stuy, he's in Canarsie, he's in Queens." She added that his ex-wife lives in Williamsburg, and his children go to school there. "He has called and started yelling at me, saying his kids got beat up, but I found out they really didn't. I guess it was to get me to stop."
Once Andrea started, though, she couldn't stop—the poster project, or her conversation with me. She told me how she met David, a "God-fearing man," at Bed-Stuy's Denim Lounge in the December of 2008. In January she fell in love with him. She says he moved into her home, and that she supported him with her job at the Pottery Barn. When she found suspicious text messages on his cellphone, she called the other woman, who told her everything: Michelle had rendezvoused with David in Andrea's home while she was out of town. "She was just coming off her period," Andrea told me. "They had to put towels on the bed, to have sex on. My towels, on my bed, in my home."
Apparently the sisterly bond between wronged women is a force greater than the revulsion of knowing someone had period sex in your bed, because Andrea says she invited Michelle over, and they enacted their revenge fantasy.
According to Andrea, Michelle only participated the one time, but she will continue "until I get bored or until it stops hurting, I guess. I don't know." The Pottery Barn recently laid Andrea off, so she has more time, now.
She knows she sounds crazy. "I don't want to be betrayed when you [write this]," she said. "He had taken stuff on Thursday morning and left, but it wasn't until this woman divulged all this information to be, that I started…. It wasn't until I found out he was in my bed, and my shower, and my couch, and not using a condom."
Michelle said she'd never heard of David, and at first that she'd never heard of Andrea. After admitting to once being friends on Facebook, Michelle said that she never came to Andrea's house. Michelle said she didn't know about Andrea's poster campaign, but added that she probably "met some guy one time and now she's obsessed." So she did know about the posters? "Not really," she waffled, mentioning the "grapevine." Why would Andrea choose you for this story? "I don't know."
I asked Andrea about Michelle's version of the story. "No, that is a complete fabrication," she wrote. "She came here and spent the night. I have several texts to confirm that." By phone, she read a text message that she says Michelle sent:
Just got home so tired I am sitting in the driveway can't even go upstairs. So good to have gotten together with you, hope to build a beautiful friendship.
Then one she says is from David:
I ask God for forgiveness the way I ask you for forgiveness. Truly sorry.
And then, her response:
The only way to soothe it [the pain] a little bit is to see you suffer with who you are. My mission is clear.
"My work is done," Andrea said before hanging up the phone. "Did you see it was on TV in LA?"
Previously:
Meet Williamsburg's Poster Boy of Spurned Love and 'Nasty Sex'