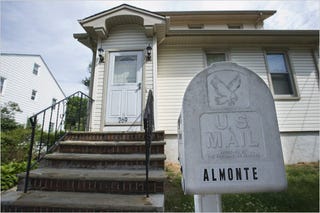 To prepare for her role in Iron Man 2, Gwyenth Paltrow ate nothing but kale. To prepare for violent Jihad, two New Jersey men played paintball and lifted weights, before attempting to travel to Somalia.
Feds arrested Mohamed Hamoud Alessa, 20 and Carlos Eduardo Almonte, 24, at Kennedy International Airport last night, where they were catching a flight to Somalia. There, prosecutors allege, the two were going to join the Islamic extremist group Al Shabaab and wage "violent Jihad" abroad and in the United States. In the months before their flight, the New York Times reports that Alessa and Almonte:
physically conditioned themselves, engaged in paintball and tactical training, saved thousands of dollars for their trip acquired military gear and apparel
According to the criminal complaint, Alessa told an undercover agent that he and Almonte were lifting weights because, "stronger muscles means bigger muscles which means killing more non-Muslims." It also means you look really hot in a swimsuit. And you know what they say: "Looking great is the best form of violent Jihad."
You know, if this whole violent Jihad thing doesn't work out—and, now that they've been arrested, it probably won't—maybe Alessa and Almonte can become the twin Richard Simmons' of the Islamic extremist world. They could release a series of home fitness videos called "Sweatin' to the Muezzin" and develop a special style of yoga that calms every part of your being except the ones that are burning with hatred for the West.
The two men—both American citizens—have been charged with "conspiring to kill, maim and kidnap people outside the United States." [NYT][CNN] (Pic via AP)