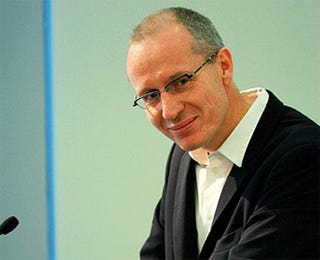 In your standoffish Tuesday media column: Robert Thomson is talking trash nonstop, Michael Isikoff's liberal bias exposed, CNN is giving up on news, Good Morning America goes into the magic business, and shameless Onion regurgitation of the day.
What is today's bit of sniping between our nation's most august news sources, the Wall Street Journal and the New York Times? WSJ editor Robert Thomson denies that his paper's giving away ads for free, and added, "At the New York Times it's the hour of dour most of the day, so they're a little leaden-footed in the way they dance around the boxing ring." Robert Thomson is Miguel Cotto, and the NYT is Yuri Foreman, see?


Former Newsweek investigative liberal propagandist Michael Isikoff, who's now departed for NBC News, reveals his pro-liberal bias in a new interview: "But when asked about conservative outlet Newsmax, which is among the suitors, he said: 'It would not be my preferred owner of Newsweek.' Asked why, he said, 'I will let you speculate.'" We speculate it is because of Michael Isikoff's well-known bias towards liberal facts rather than conservative imaginations due to his role in Vince Foster's murder, the end.


CNN is reportedly seriously considering dropping its AP subscription, after already dropping its Reuters subscription in 2007. Uh, hello, what will CNN do to find out what the news is? Go out into the world and just look for it?


Other important news from the world of television journalism: Good Morning America is getting its very own "magic wall," with moving pictures and everything! Georgie Stephanopoulos was so excited he peed his pants three separate times this morning!


The Onion: "Boston Globe Tailors Print Edition For Three Remaining Subscribers." Lazy, tossed-off regurgitation of Onion headlines is killing the media.
[Photo via SAJA Forum]