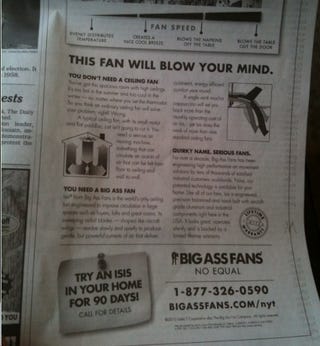 In your melting Monday media column: perversity finds its way into the Grey Lady, fake NYT trend story may be fake, Katie Couric could return to CBS, and David Carey leaves Conde Nast.
New York Times erosion of family newspaper standards alert! A scandalous full-page (less than full-page) advertisement on page A9 of today's edition touts "Big Ass Fans." Can you even say "ass" in the NYT? I don't think so! Public editor Arthur Brisbane, your first column is writing itself (just be sure not to say "ass").


After interviewing the subjects of a recent NYT story, the NYTpicker asks, "Did NYT's Hilary Stout Invent That 'End of the Best Friend' Trend in Styles Section's Controversial Cover Story?" In practice, there is at least a 90% chance that the answer to any question in the form of "Did NYT's ___ Invent That ___ Trend in Styles Section?" is "YES."


The NY Post says that Katie Couric is in "serious talks" to stay at CBS after her contract is up next year. They also say that she turned down CNN's offer to be Larry King's successor. And no wonder. It's not an attractive job for an A-list TV name. The show itself is a ratings black hole, and the network is perceived as second-tier and desperate. So, they got the right man for the job.


David Carey, the former New Yorker publisher who oversaw Wired, Golf Digest, and Golf World, is leaving Conde Nast to become head of Hearst's magazine division. Publishing talent is in demand these days (in case you have any).