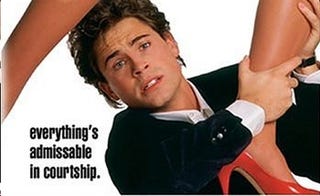 In your inspirational Thursday media column: Miramax may be nearing a sale, a motorcycle writer canned for writing honestly about motorcycle things, Science vs. Pepsi controversy resolved, Tina Gaudoin rejoins the WSJ, and NPR name change alert!
Oh poo: the NYT says that Miramax could be sold "within a week" to construction executive Ronald Tutor and Colony Capital, a private equity firm. Conspicuously not mentioned as a likely winner of Miramax: Rob Lowe and his band of wacky Italians. Disappointing.


Dexter Ford, a veteran writer for Motorcyclist magazine, was apparently fired by his bosses there after an accurate freelance story he wrote about unsafe motorcycle helmets angered the magazine's advertisers. In other words, if you want to read accurate reporting about motorcycle issues, read the NYT rather than Motorcyclist magazine.


Scienceblogs.com—actually a respected collection of blogs, about science—yesterday sold a slot on their blogging roster to PepsiCo, so Pepsi could produce its own "science" blog, "Food Frontiers." This, predictably, pissed off a lot of the actual scientists who blog without being paid by PepsiCo. Now ScienceBlogs has reversed itself and killed the Pepsi blog. It's a good example of a media company making a mistake in search of money, but then hearing the complaints, and correcting itself. Stop being so cynical about everything.


Tina Gaudoin, the former editor of the WSJ's weekend magazine who quit and fled to London last month, will now start writing a column for the European version of the paper. This is why you don't tell the boss to fuck off on your way out the door to your new life in London, kids!


NPR is officially changing its name to "NPR." Take note.