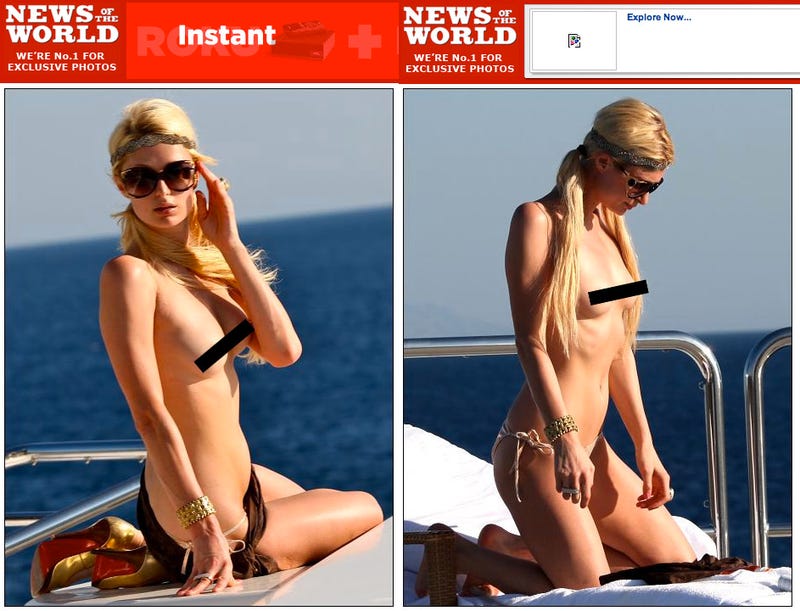 Ever since Kim Kardashian displaced Paris Hilton as America's most sought-after celebutante, poor Paris has struggled to redefine her niche. Reduced now to selling nudie pics to News of the World, will Paris bounce back—or fall flat?
Oh, who are we kidding? Even if she's not America's top fameball anymore, feigning candid nudity on a yacht in St. Tropez is what this girl was born to do. It's not the highest point of her career, but it's a strange little success unto itself that this lady perseveres at all. Fun facts:
Last time we saw a series of faux-candid celebutante nudes in News of the World, it was Peaches Geldof.
Paris ran into (and attempted to humiliate) ex-boyfriend Doug Reinhardt in St. Tropez.
Paris' vagina used to be her most-photographed calling card. Now that Kim's raised the stakes on T&A, has Paris decided to follow suit? Speaking of which...
Paris breasts are looking bigger, right? The photo at left made me think "boob job," though the teardrop shape at right has a natural appearance. Did she finally get up to a non-starvation level BMI, or is this photo shoot paying for her new toys?
Headband, sunglasses, rings on her fingers, bells on her toes—maybe Paris' next endorsement should be a Lady Godiva accessories line?
Paris is international party impresario Taek Jho Low's date in St. Tropez, something she could also be earning money for.
All in all: A working vacation for Paris Hilton. [NOTW]