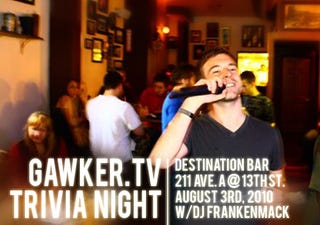 Do you know the name of Uncle Jesse's band from Full House? Do you know where the last season of Real World was? Then you belong at Gawker.TV's second monthly TV Trivia Night on August 3 at Destination Bar!
Come get your TV trivia fix with MC Kirk Larsen, beats by DJ Frankenmack, $3 PBRs and half priced John Dalys all night. Winners walk away with a 5-pound gummy bear, a pink etch-a-sketch, and bragging rights of superior knowledge.
August 3, 2010
Destination Bar
211 Avenue A
New York, NY 10009
Here's the situation:
- Sign-up between 7-7:45
- Trivia starts promptly at 8 pm
- Up to 6 people on your team
- Bring a pen to write your answers
- Extra points for the best team name
Let us know if you're attending on our facebook event page.