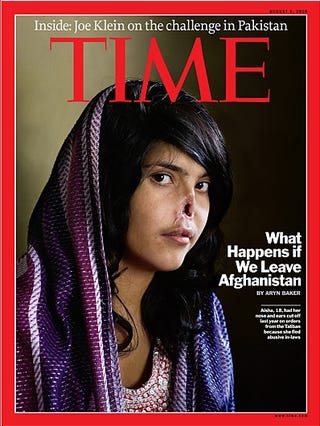 In your wicked Thursday media column: Time gets graphic, the New York Post doesn't know how to apologize, reporters kidnapped in Mexico, even more sex-related troubles for Sumner Redstone, and a PR service is advertising with Fox News' reputation.
Have you seen the latest cover of Time? It's an Afghan woman with her nose cut off. "What happens if we leave Afghanistan," it reads. That woman won't be bombed, by us, perhaps? That's politics! The media question: can a horrific cover image sell magazines? We'll know in a week.


Yesterday, the New York Post ran a snippy correction for erroneously reporting that a New York hospital was giving a liver transplant to a confessed wife-killer. Now, Foster Kamer says that the staff thinks someone might get canned because the story turned out to be false. The Post's PR person says no. Perhaps the larger lesson is, don't be snippy in your correction of your own huge error?


Mexican drug cartels kidnapped three TV news cameramen and a newspaper reporter Monday, and now the criminals are demanding that local TV stations air their anti-police videos as a condition of releasing the journalists. The reporters still haven't been released. Hey drug cartels: just buy an ad.


Elsewhere today in Media Execs Facing Harassment Claims: P6 says that a former female senior Viacom exec is preparing to sue Sumner Redstone for sexual harassment. This could also be classified as, Further Recent Problems for Sumner Redstone. (But here's one woman who says Sumner didn't pay her money just for being pretty, so there's that.)


A PR service called "Special Guests," which purports to get you booked on talk shows in exchange for a fee, is using photos of Fox News personalities in its ads, implying that Fox News puts people on the air for money. The company president told PRNewser "I really don't know" whether he needs permission to do that. Okay.