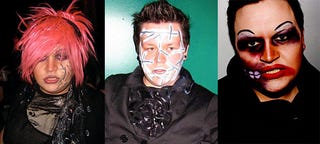 Drag queen Jane Lane is well known on the gay club scene for his outrageous clothes and oversized personality. On Sunday, he became known to the NYPD when he bit off someone's ear and was arrested. Details and photos below.
Jane Lane (real name: James Leahy) is a fixture on New York's gay nightlife scene, a part-time party promoter and a wild club kid who's always dressed in crazy outfits, insanely styled wigs, and his trademarked gonzo face paint. While he never seemed like the violent sort, that changed on Sunday when he allegedly attacked another patron at the weekly gay party at High Bar on 48th Street and bit his ear off in the process. Leahy was arrested on Sunday shortly after the incident occurred. He was arraigned this afternoon on two counts of first-degree assault "with intent to disfigure another person seriously and permanently," and released on his own recognizance.
The victim, Ronnie Brown, a model and regular at gay bars and clubs around town, emailed us with details of the violent encounter:

We haven't heard anything this vicious happening in a gay bar since the days of Michael Alig!
This event supposedly comes at the end of a string of incidents for Leahy, who works by day as promotions coordinator for AIDS Walk New York. Several sources say that he had two altercations with several other clubgoers earlier in the week. We contacted one alleged victim and he was unwilling to talk about it on the record. Attempts to contact Leahy were unsuccessful.
Leahy will head to court for his next hearing in November. In the meantime, stay safe out there, party animals. Nothing ruins a good time like going to prison.
[Photos via Eric Halliwell, Jane Lane's Facebook]