When Reddit user freshcashews turned 13, his father sent out letters to important figures inviting them to the Bar Mitzvah. Forty-one of them wrote back—including then-Senator Obama, Arnold Schwarzenegger, the Queen of England, and the President of Nigeria.
Freshcashews, whose first name is Travis, had several dozen letters sent out on his behalf in the summer of 2007 by his father, a retired Deputy Sheriff named Gregory, who was going to compile the responses into an album. Gregory received some 41 replies (listed here), from figures as wide-ranging as Donald Trump and the Pope, and Travis uploaded a bunch to Reddit on Sunday night.
Unfortunately, none of the famous important people could make it to Travis' special day. But most of them—or, really, their assistants and helpers—were good-natured enough to fill in the blanks properly on their form letters—or, even better, craft fairly personal replies. The best response is sci-fi author Ray Bradbury's weird sketch, though the cute apologies from the President of Ethiopia and the Prince of Wales are sweetly funny.
Here are the responses Travis has scanned so far (he says he'll post more to the Reddit thread later). Click on the scans to enlarge.
[Reddit]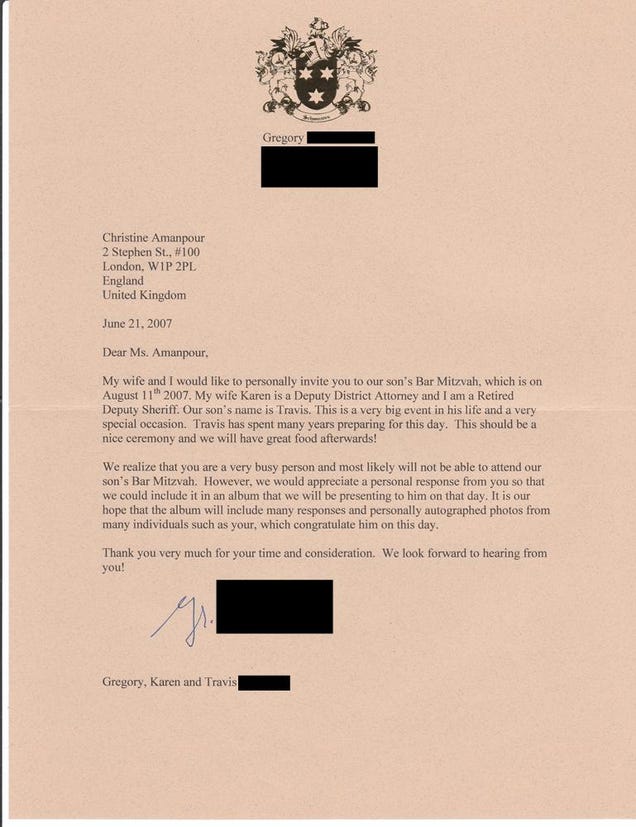 Request This is a sample of the letter Gregory sent out, addressed to Christiane Amanpour—who didn't, for the record, write back.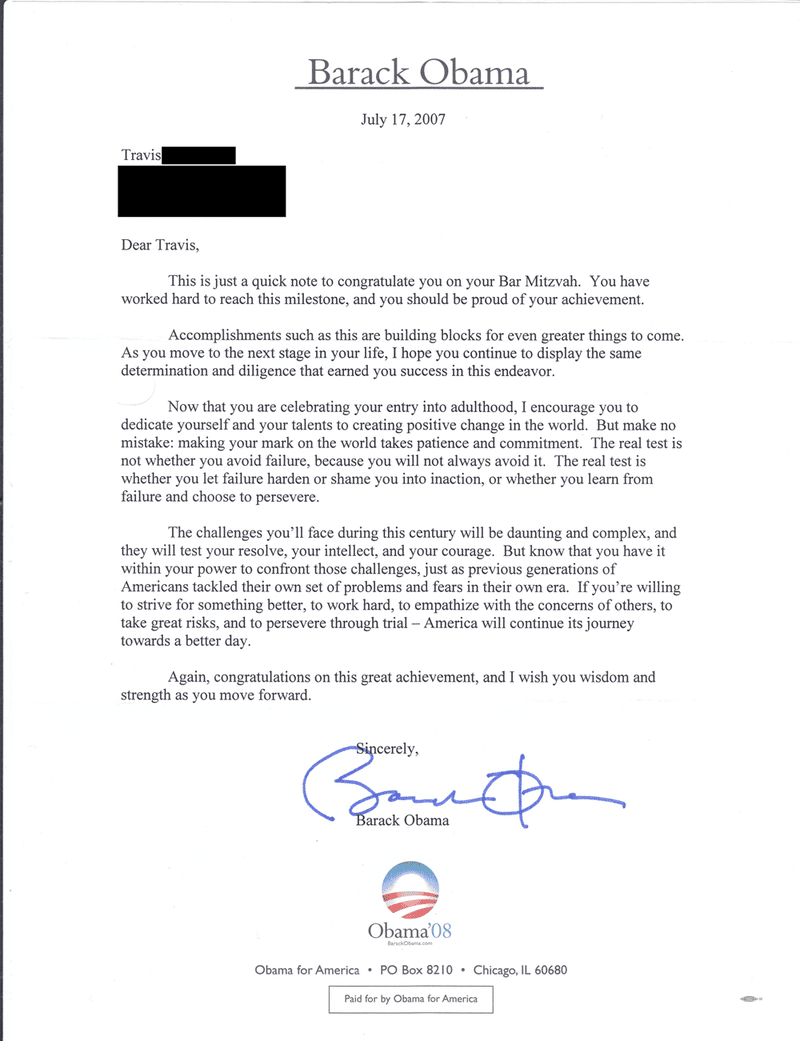 Barack Obama Obama, at the time, was still the junior Senator from Illinois, having only announced his candidacy in February of that year.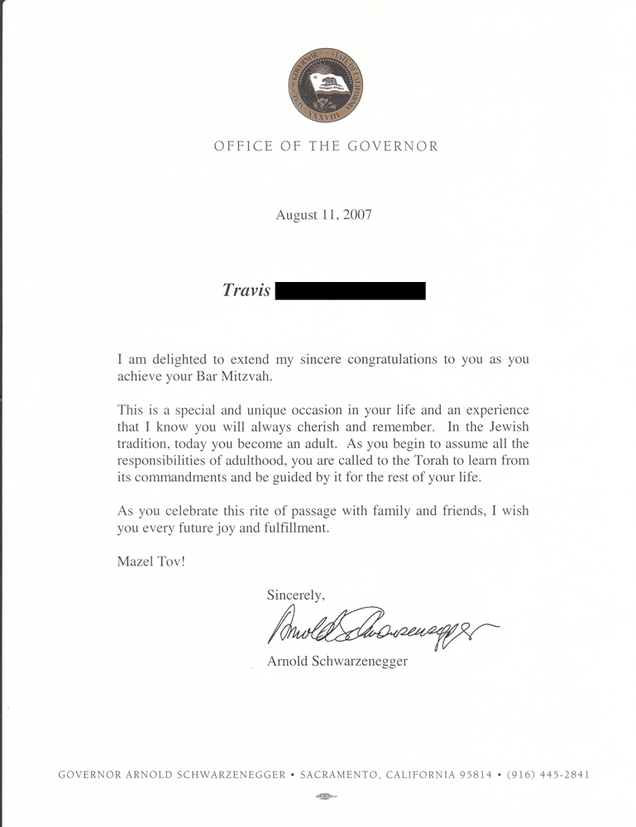 California Governor Arnold Schwarzenegger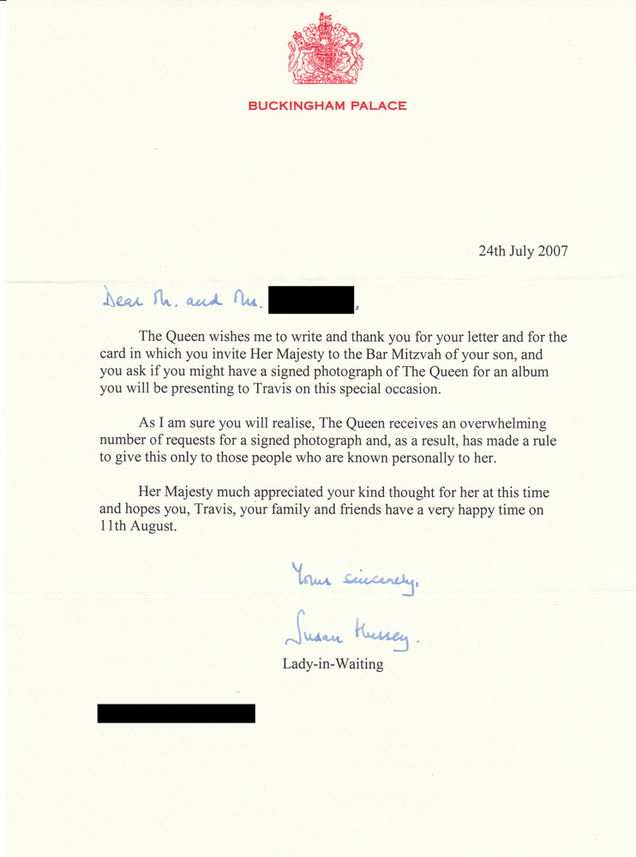 Elizabeth II, Queen of England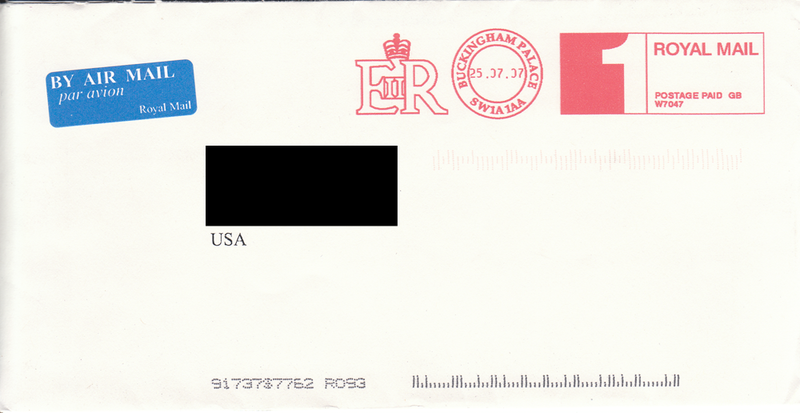 Elizabeth II, Queen of England Check out that Buckingham Palace postmark!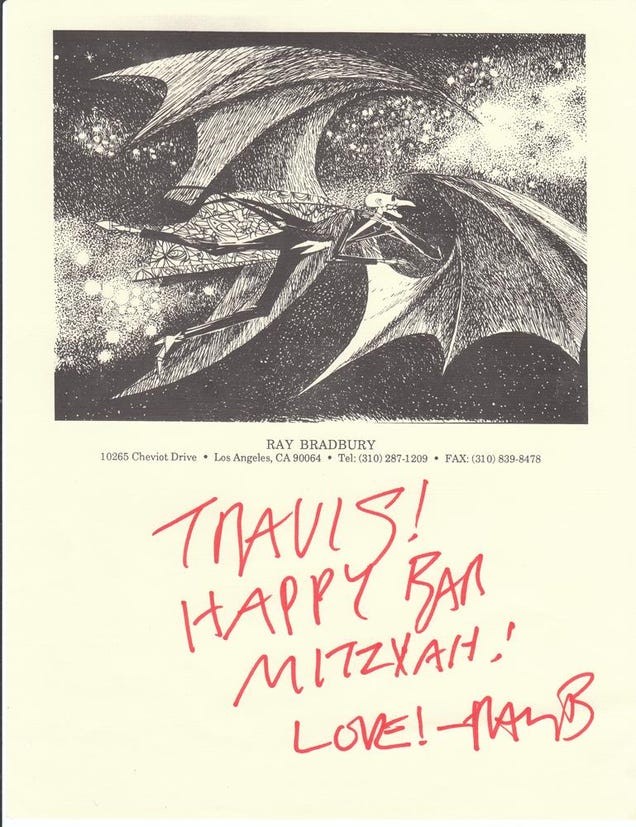 Author Ray Bradbury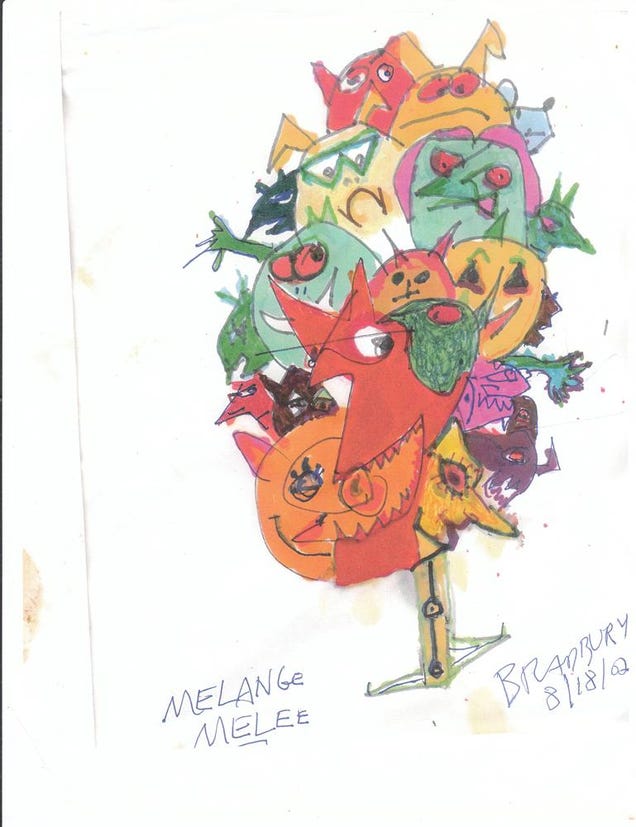 Author Ray Bradbury. In addition to his brief scrawled note, Bradbury included a sketch of, uh, something (the "melange melee," I guess).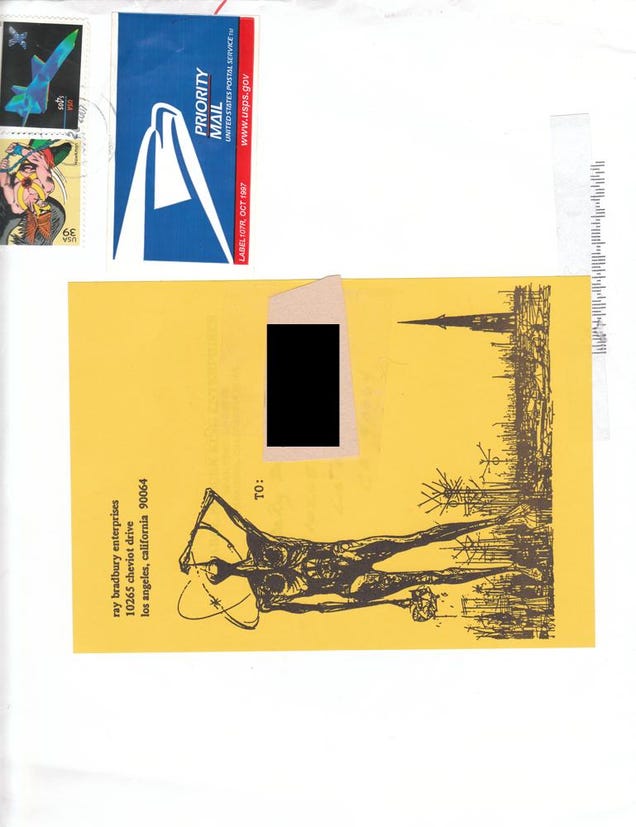 Author Ray Bradbury. This is Bradbury's envelope.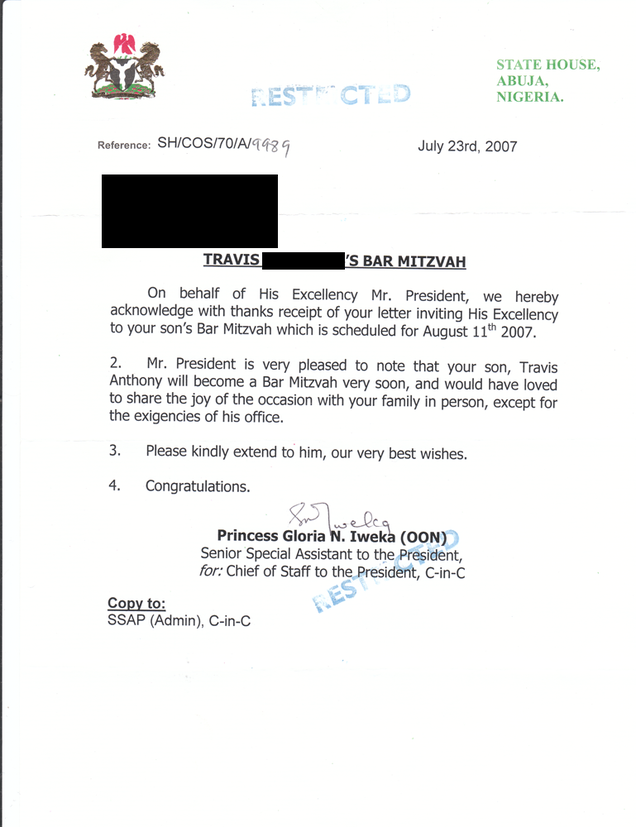 President of Nigeria Umaru Yar'Adua. President Yar'Adua's letter is signed by Princess Gloria N. Iweka. Yar'Adua died in office in May of 2010.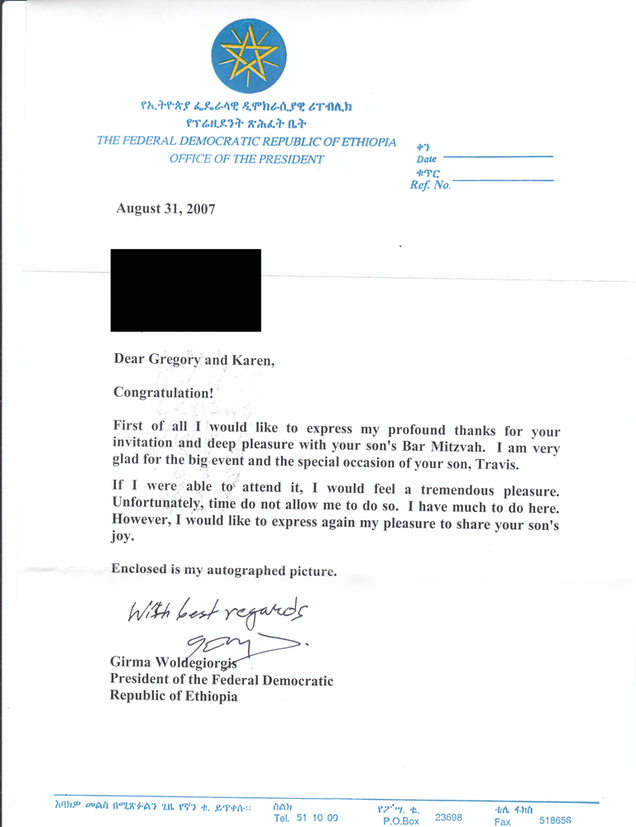 President of Ethiopia Girma Woldegiorgis President Woldegiorgis has "too much to do here" to attend Travis' Bar Mitzvah. He did include a photograph!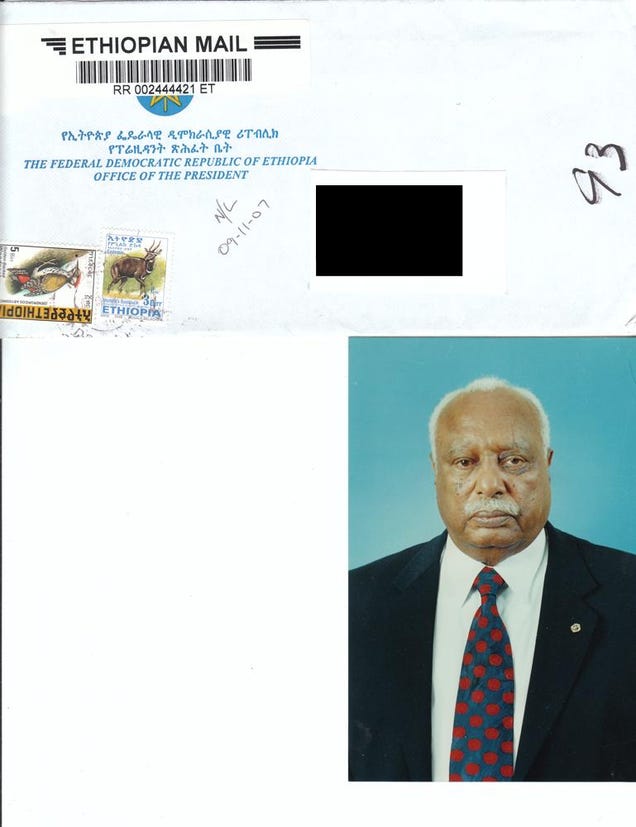 President of Ethiopia Girma Woldegiorgis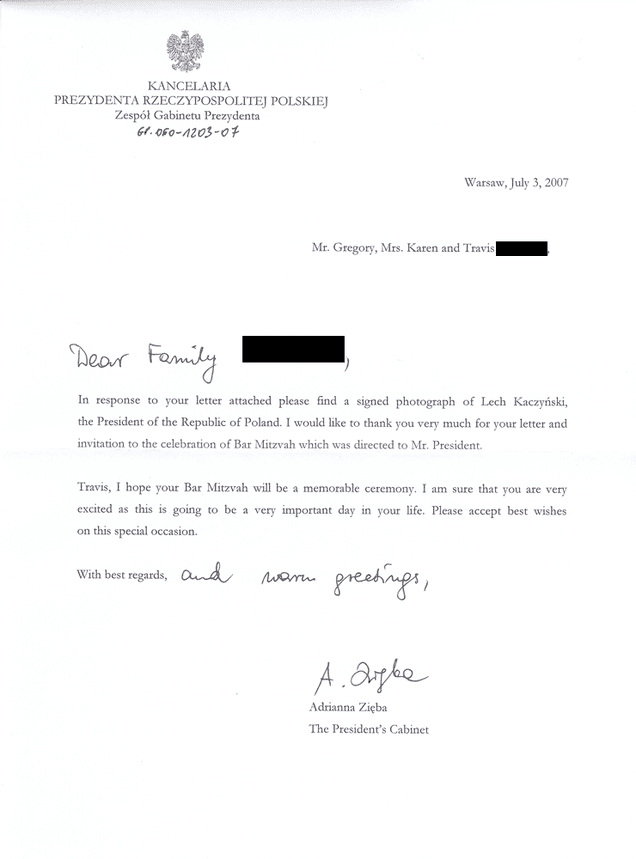 President of Poland Lech Kaczynski. Kaczynski's letter includes a personal "warm greeting" from cabinet member Adrianna Zicba. Kaczynski died in a plane crash this year.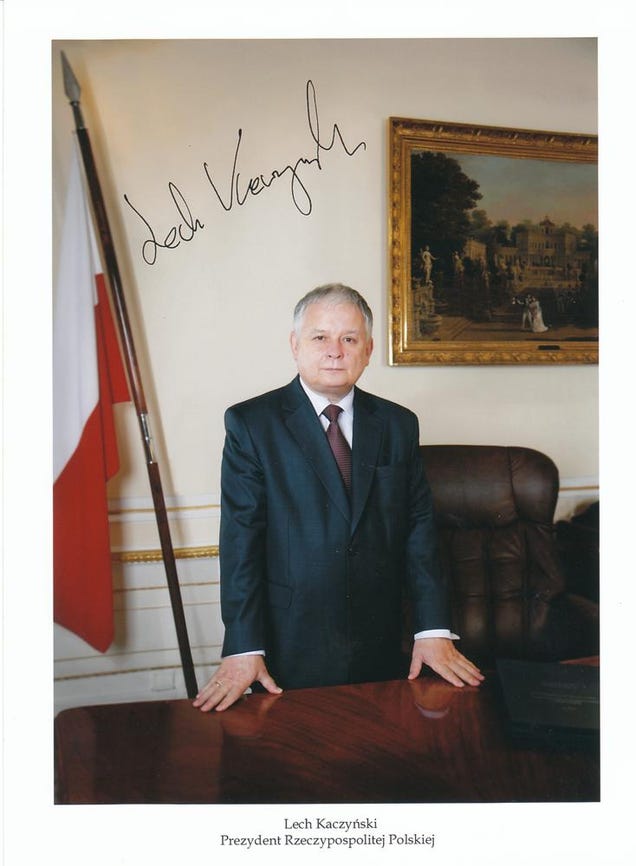 President of Poland Lech Kaczynski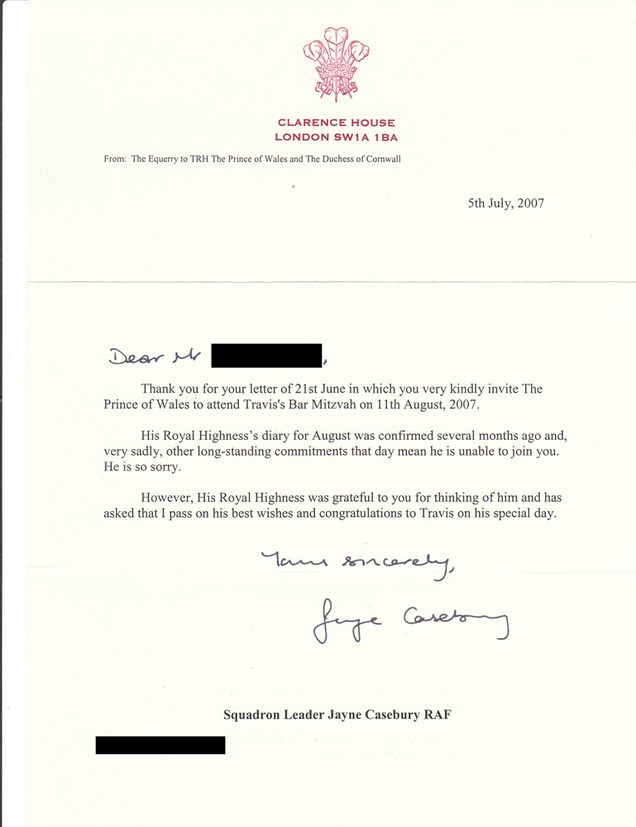 Charles, Prince of Wales. Prince Charles is "so sorry," but his schedule was booked "several months ago." Gregory—start earlier next time!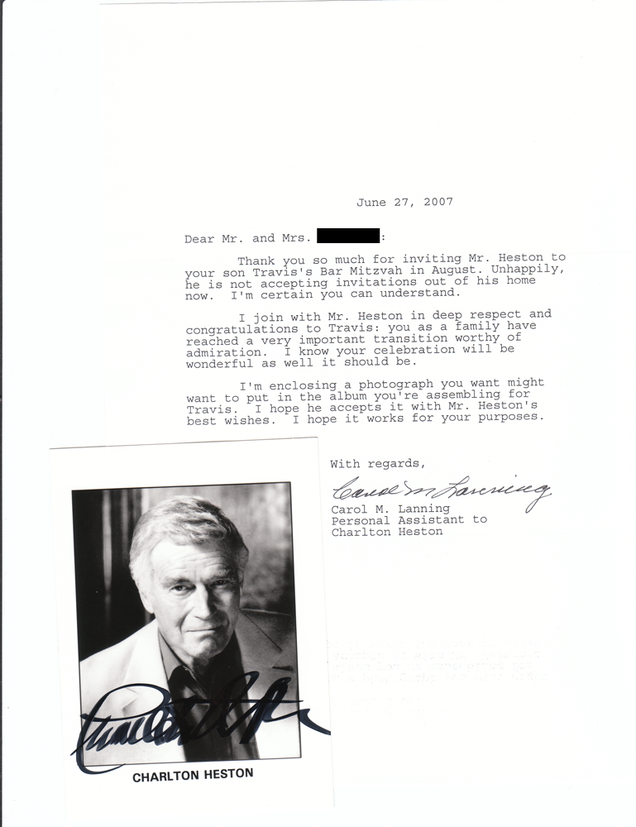 Actor Charlton Heston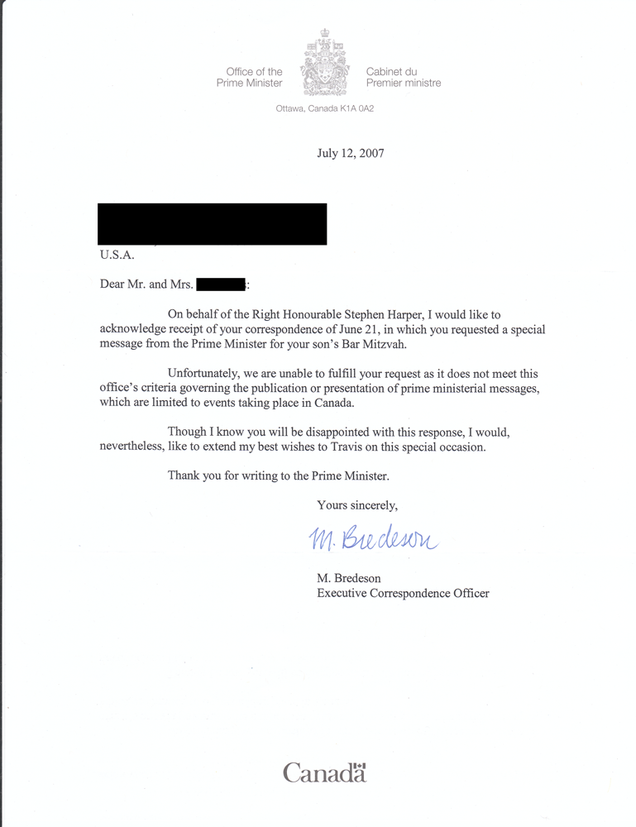 Prime Minister of Canada Stephen Harper