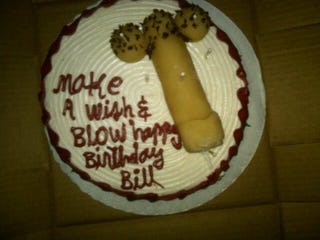 In your cocky Tuesday media column: those Red Eye boys are just as penis-obsessed as ever, News Corp gives a million bucks to Republicans, Nielsen's big IPO, and a reporter fired for wearing a nice hat.
Oh goodness gracious, Bill Schulz, the sidekick on Fox News' "Red Eye" late night thing, received a birthday cake with a big old cock on it (in frosting). Which could be embarrassing for any of several reasons, depending on the spirit in which the cock was given.


News Corp donated $1 million to the Republican Governors Association in June. Surprised? No? Yea.


Ratings company Nielsen, which was taken private in a buyout in 2006, hopes to raise $2 billion in an IPO .


Arkansas radio station KAKS ("Hogs Sports Radio") fired host Renee Gork because she wore a Florida Gators hat to an Arkansas football press conference. It's not about journalistic integrity; it's because, as the GM said, "We are very biased. We support the Razorbacks 100%." Is that even legal? This sort of thing would never happen in Florida, unless she was wearing a Georgia Bulldogs hat.