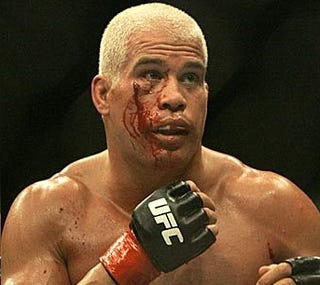 In your global Wednesday media column: strongman manager buys biz show, rumors of trouble at OK! Magazine, management shuffles at Time Inc, and press freedom threatened in South Africa and Venezuela.
The sober PBS "Nightly Business Report" has been purchased by a media company run by Mykalai Kontilai, who's made his living as a "manager of mixed martial artists and distributor of instructional television programs." He also is a Tae Kwon Do instructor! That's "Nightly Business Report," now brought to you by the dude who "was instrumental in negotiating the seven figure contract for the return of Tito Ortiz." Not that there's anything at all wrong with that.
A tipster tells us that trouble is brewing again at OK! Magazine, where trouble is always brewing. We hear that publisher Richard Desmond is upset that the money-losing magazine has only made its 400k copy rate base three times this year, and that he's been feuding with current editor Mark Pasetsky, whose time could be short if things don't improve. This is all perfectly par for the course at OK!.
Sylvia Auton, the head of Time Inc's Lifestyle group, is taking another job with the company in London, and being replaced by Evelyn Webster. Auton had reportedly (unsuccessfully) lobbied for Time Warner to spin off the entire Time Inc. division.
The South African government is proposing a new law that would radically restrict freedom of the press, and which "could jail reporters for publishing information that officials want kept secret." Power corrupts, ANC edition.
And in Venezuela, a court has prohibited a leading newspaper from publishing any violent images featuring "blood, guns, alarming messages or physical aggression images." Power corrupts, Chavez edition.
[Pic via]