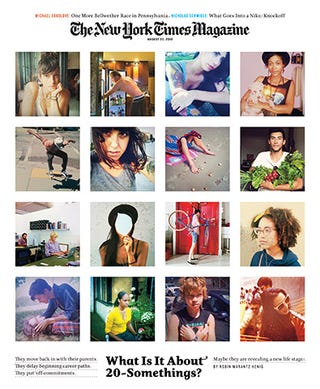 In your unemployed Friday media column: The NYT magazine editor search continues, top editors shuffle in and out of magazines elsewhere, an ill-advised warning for young journalists, and Robin Givhan on the Essence RACE SCANDAL.
How's that search for Gerald Marzorati's successor at the NYT Magazine going? WWD says: 20 applications submitted, zero interviews done so far. Although Bill Keller says he'll have a new editor by the end of next month! So you know he already has the person in mind. The fix is in! It's all stored right up there in Bill Keller's noodle already! Just you watch! I'm still betting on an in-house hire, though, to be fair, I have been wrong before, quite a few times. Wouldn't it be funny if he hired, like, the last remaining editor from Newsweek? He won't, though.


Silvana Nardone has stepped down as editor of Every Day with Rachael Ray, which is the name of a magazine that is not written by Rachael Ray, FYI. But do not be too sad, because Conde Nast Traveler has named Jim Baker—formerly Development Editor of the Lifestyle Division at Time Inc.—as its new executive editor. In this way the balance of editor yin-yang is maintained.


Online Journalism Review's Robert Niles warns aspiring journalists, "Don't undercut your hard work with moments of Facebook foolishness." Why is Robert Niles fucking with our livelihood, here? Outrageous.


Famed WaPo fashion writer Robin Givhan weighs in on the controversy over Essence hiring a white fashion director, ultimately saying that it's not a bad move because Essence needs to expand its own horizons, anyhow: "Burt-Murray should take to the airwaves and hold up her decision as a sign that Essence isn't just about black women. Black women aren't 'special.' They are individuals and they are universal." The subtext here: "I, Robin Givhan, a black woman, have the fashion critic job at the Washington Post, which is way more prestigious than Essence, anyhow, and I'm not even going to mention that Pulitzer, so LOL @ all of you." Also fashion is dumb.