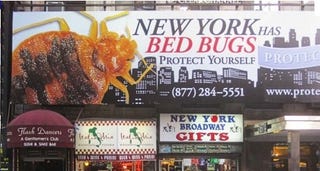 In your fearmongering Monday media column: vicious rumors of bedbugs at Elle, a mass exodus from the New York Observer, Sidney Harman has some ideas for Newsweek, media job moves afoot, and Philly wants to tax bloggers.
We heard last month that bedbugs had invaded Hachette's Book Group, on Park Ave. Now, a tipster tells us that the buggy plague is striking at the heart of Elle itself: "They just sent home at least half of the 42nd floor—apparently they didn't do such a thorough job exterminating the Elle offices over the weekend and now the bugs have migrated down two floors." Dammmm. I heard Elle girls are kinda dirty. Kidding! It's not true at all, we're all equal as humans. If you know more, email us.


The New York Observer is coming apart at the seams, it seems! Foster Kamer reports that Alexandra Jacobs, Eliot Brown, and Molly Fischer are all leaving the NYO for better-paid pastures. Which is traditional! But he also say NYO editor Kyle Pope is at war with the publisher, which is only traditional more recently. Let's hope things don't fall apart.


Old Sidney Harman, the new owner of Newsweek, is speaking out, with ideas! In a new interview with the WSJ, he suggests that the magazine branch out into "The lecture business, the publishing business beyond the magazine, the consulting business, seminars and conventions, newsletters." He also says he's ready to absorb the financial losses for a few years, which is really the most important thing.


Also in media job news today: Amanda Terkel, the managing editor of ThinkProgress (and former Jesse Watters ambush victim), is going to be a political reporter at Huffpo; and Elle Decor's new editor in chief is Michael Boodro, formerly the magazine's executive editor.


The City of Philadelphia is now attempting to charge bloggers a $300 "business tax." This will be far less than the amount of money the city will be spending in online PR in the very near future.
[Pic
via
]