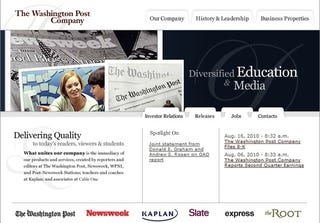 In your nubilous Tuesday media column: the WaPoCo's nervous about Kaplan, Seth Godin to reap more revenue from his followers, AARP Magazine is the king of all magazines, and a newspaper is bringing back a formerly scrapped section. Unheard of!
Recent problems at Kaplan have already put the Washington Post Co. in danger of getting financially fucked. Now, after the WaPo itself wrote an editorial last weekend defending the Kaplan company line on government regulation, they're in danger of getting editorially fucked, too. Meaning embarrassed. A WaPo spokesman says that with prominent disclosure in the editorial, "there isn't any hidden agenda here – it's clear as day." It's clear as day it was a bad idea to write that editorial in the first place. The Washington Post newspaper is fully subsidized by Kaplan's earnings. Regulation that dents Kaplan's earnings could imperil the very existence of the paper. And the editorial was really not in line with the paper's usual stance towards regulation. So, don't write the fucking editorial. It looks terrible. And it doesn't wield much real influence, anyhow.


Unnervingly-pated internet cult leader Seth Godin is parting ways with his publisher in order to sell his own books himself, directly to his many followers. Anything that keeps their hands occupied is fine with me.


AARP Magazine has this magazine thing down to a science. It sends out three different versions of each issue: one to subscribers 50-59, another to those 60-69, and another to those over 70. For example, "the 70-plus version substitutes an article about hearing aids for one about hotel-branded merchandise in the other versions." How can they afford to do all this? Because, as I never ever tire of repeating, AARP Magazine is by far America's largest magazine. We are so lame, America.


Now here is an interesting counterintuitive thing: the Baltimore Sun is bringing back its Sunday magazine. This is one of those "green shoots" they're always talking about! Banner day, newspaperpersons!