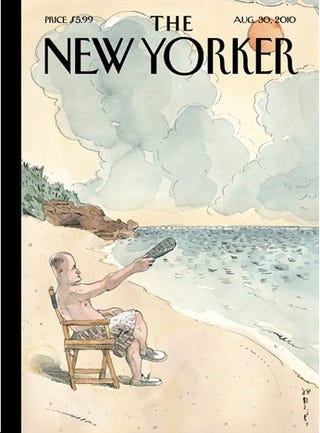 In your wounded Monday media column: prestigious magazines clash over characterizations, Dana Milbank is now more ostensibly respectable, the alt-weekly war in San Fran rages on, and another departure at Forbes.com
Oh hey, a New York magazine vs. New Yorker feud! What could be better, magaziney-wise? Jane Mayer's humongo profile of the billionaire Koch brothers included a reference to Andrew Goldman's earlier profile of them in New York as "admiring." So New York editor Jon Gluck emailed David Remnick to say "Although there is nothing wrong with a positive story, this was not one. Mayer's characterization of Goldman's work is false, at best." Huh oh! What is next, a vaguely undermining profile of David Remnick, in New York magazine? These things can easily spiral out of control.


The Washington Post's new editorial page columnist: funnyman Dana Milbank! "Strongly ideological people on the left do not recognize me as one of their own," he says. Gold star to their award-winning opinion section.


San Francisco's alt-weeklies, the Bay Guardian and the SF Weekly, have been warring in court for years over allegations that the chain-owned SF Weekly deliberately underpriced ads in order to try to put its competitor out of business. The Bay Guardian just won a huge judgment, but the court case isn't over. All indications are that both sides still have a lot of fight left in them. Suggestion, from an ignorant out of towner: team up, before you both go out of business. Think about it.


Carl Lavin, managing editor of Forbes.com, is leaving the company. He follows editor Paul Maidment, who left in June.