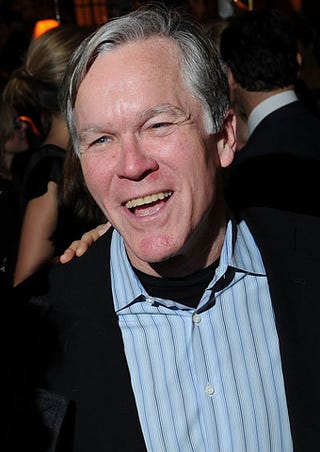 In your tripping Thursday media column: Bill Keller hollers back at the WSJ, Sharon Waxman's upset at every little thing, National Journal keeps hiring, and the Deseret News welcomes its future as a Mormon PR operation.
NYT editor Bill Keller is talking shit about the competition! "If the Journal is gaining market share I'd guess it is more at the expense of USA Today than the Times," he tells Sarah Ellison. "It's a small-town news section in a big city." The NYT, trying to play in the mud, just a bit! Kudos to them. In response, the WSJ is expected to illustrate a story about child molesters with Bill Keller's photo.


Sharon Waxman is discombobulated! She will get angry and flabbergasted about anything that her competitors do! This time, she's outraged that she read in the Village Voice yesterday that The Hollywood Reporter offered Richard Johnson $1 million. That is so much money! And meanwhile THR's editor is saying the word "bitch," in print! Sharon Waxman will have a heart attack soon if her competitors don't stop doing things she doesn't approve of, for vague reasons!


National Journal is on a hiring spree. They recently hired Major Garrett and Michael Hirsh, and today they've hired Miami Herald political writer Beth Reinhard. Who will they hire next? Maybe you! Though it's statistically unlikely.


How is the Deseret News going to implement its big plan to "refocus the quality and reach of its product" and "enhance its digital coverage" after laying off 40% of its staff? Step one, allow Mormon church PR people to be your new "reporters."
[Pic: Getty]