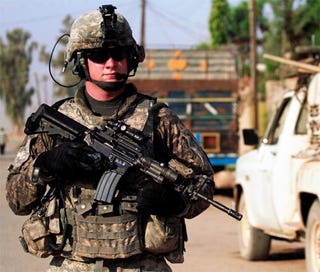 In your pre-vacation Friday media column: the AP warns reporters on war propaganda, another Newsweek departure, China's "future of journalism" candidate, and ABC pulls a story, while standing by it.
The AP issues its staffers an important memo: "Unless there is balancing language, our content should not refer to the end of combat in Iraq, or the end of U.S. military involvement." Let's give the AP its props, for doing a heckuva job in general, in Iraq and elsewhere.


The latest in the mind-numbingly long string of Newsweek departures: economics editor Dan Gross, who's going to Yahoo Finance.


Is Chinese propagandanews agency Xinhua "the future of journalism"? Um no. Well—let's hope not. Never put anything past politically-motivated news lite aggregators, as HL Mencken used to say.


Regarding that momentary ABC News story this week that officials were on "high alert" for a hijacking when they caught those two (innocent!) Yemenis with suspicious (innocent!) luggage: Salon points out that the story, by famous ABC investigative errormonger Brian Ross, has been pulled offline. Although ABC says they still stand behind it. Anyhow, the important thing is, kiss someone of a different religion this holiday weekend.
[
Photo via AP
]