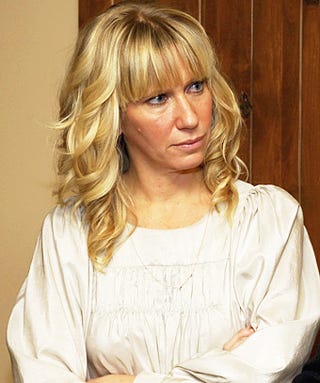 In your celebratory Wednesday media column: Brandon Holley makes it back to the magazine world, Tina Brown vows not to join the magazine world, Arianna Huffington's in her own world, and the WSJ's digital prez is out.
The new editor-in-chief at Conde Nast's Lucky magazine: Brandon Holley, onetime editor of Jane who had since been exiled to Yahoo's woman-place, "Shine"! Congratulations on escaping internet hell, Brandon! Her predecessor, Kim France, is "leaving the company" with little explanation.


A while back, Tina Brown's name was floated by anonymous sources as a possible new editor for Newsweek. Far-fetched! Now Tina tells the NYO: "I'm not serious about the Newsweek thing! I'm serious about The Daily Beast." Barry Diller yelled at her, apparently. Also in Newsweek news today: Keith Kelly asks 92 year-old Sidney Harman if he has a "10 year plan" for the magazine. That's fucked up. Haha.


Arianna Huffington is letting readers vote on where she stops in her upcoming book tour, a practice known as "crowdsourcing," which is a word from the future, where Arianna Huffington lives. Also, she is a hypocrite.


Gordon McLeod is leaving his position as president of the Wall Street Journal's digital network. The memo is here.
[Pic: Getty]