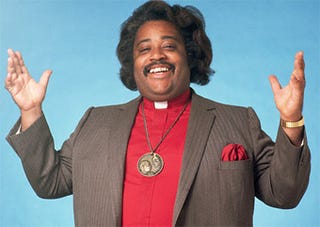 In your educational Tuesday media column: Al Sharpton launches a TV show about schooling; the Washington Post pimps space on its front page; and magazines bleed even more rich readers.
The Washington Post wrapped its front page in an advertisement for the first time this past Sunday, and will run an ad on the front page for the first time this coming Sunday. "Other newspapers have done it," is what the WaPo says. Other papers like the New York Times, Wall Street Journal and Los Angeles Times have indeed done it. All the cool newspapers basically do this, when they're not going bankrupt, taking subprime loans from Mexican tycoons and picking fights with Google. They might also jump off the Brooklyn Bridge. Does that mean WaPo should jump off the Brooklyn Bridge? (Etc.)


Rev. Al Sharpton will launch a new syndicated, Sunday morning talk show, to be created by the civil rights advocate's production company. Called "Education Superhighway," the show will look at the education system as a whole. It will not cut into Sharpton's existing educational outreach efforts as a regular guest on the O'Reilly Factory and the Sean Hannity Show.


Wealthier magazine readers are defecting for tablets and e-readers: Readership is down 16 percent over the past year among households making more than $100,000 per year. But 80 percent of those households have at least seen magazine ads, somewhere, somehow, so there's always that.


The Philadelphia Inquirer will be auctioned again after a planned sale to 16 financial institutions collapsed.
[Image via Getty]