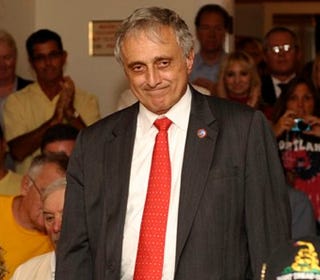 Thank you, New York Republicans, for nominating racist porn e-mailer Carl Paladino as your gubernatorial candidate! Because he's funny. Now, for example, he's sending out "garbage-scented" mailers to 200,000 households — as a metaphor for Albany, see?
This is probably the worst imaginable thing a candidate can ever do. Or perhaps the best? The AP reports:
A garbage-scented mailing by nominee Carl Paladino features the photos of seven Democrats, six of whom have been investigated and two who have resigned in scandal in the past four years.

"Something STINKS in Albany," the mailer says. Paladino spokesman Michael Caputo told The Associated Press on Thursday that the mailer is scented with a "landfill" odor.

He says the smell will get worse the longer it is exposed, just like Albany.
Have any of you dear readers received one of these Carl Paladino shit sandwiches in the mail? Do they really smell that bad, or are AP writers just a bunch of dandies? (The answer can be "both.")
[Image via AP]