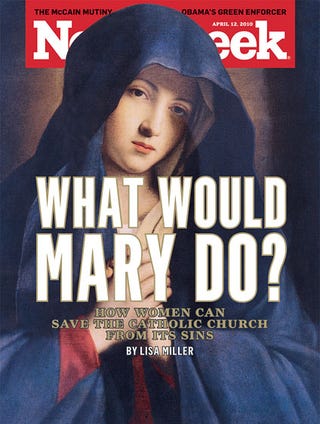 In your rumormongering Friday media column: rumors of Newsweek's bleak near future, another Rupert Murdoch paywall, buzzy broadcasters revealed, Dennis Kneale reportedly leaving CNBC, and Doug McKelway gets canned.
The Newsweek rumor train rolls on! Pursuant to the earlier rumor today about combining the Daily Beast with Newsweek's digital operation: one source tells us the tentative plan is to fold in the Beast in exchange for 20% of Newsweek. Separately, another source tells us that a new round of layoffs at Newsweek will begin next Friday. The entire manufacturing and distribution operations will be outsourced (which we heard before). And those not laid off, we hear, may well end up training their replacements. The thinking at Newsweek (and you can't argue with the logic) is that new owner Sidney Harman will die soon, and at that point control of the magazine will pass to his wife, Congresswoman Jane Harman, and "the consensus is that that will be the end of it." It may take more than the historical Jesus to save them now. [Know more? Email me].


Rupert Murdoch is erecting another online paywall! This time at shady, popular Brit tabloid News of the World, which has to pay for all those phone taps somehow, you know?


Media critic Jon Friedman reveals which dozen TV broadcasters have "buzz." !!! Not to spoil it for you but yes, #1 is Jon Stewart, and pornographers are inexplicably excluded from the list. Does that answer your questions? I think it does.


CNBC's blog-cursing wackadoodle Dennis Kneale is set to leave the network over salary issues, according to Jeff Bercovici.


Outspoken gay punch-threatening DC newsman Doug McKelway has been fired for insubordination. SHOCKER DETAILS AT 11.