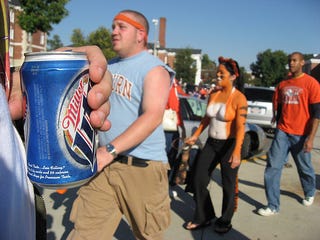 Superbugs! Libido lack! Depressed students! Football brain! Dumb food docs! Marines with cancer! Whooping cough! Headline minds! It's your Friday Health Watch, where we watch your health—as best we can, through the fog of concussion!
Drug resistant "superbugs" have been found in 20 states across America, meaning that your chances of death are still 100%, sooner or later.
Almost 40% of women reportedly have "low libido," yet few of them seek help from doctors, and even fewer seek help from bloggers, which is another problem altogether.
Medical students suffering from depression "are more likely to fear stigma than their non-depressed counterparts." As well they should be.
[Pic via]