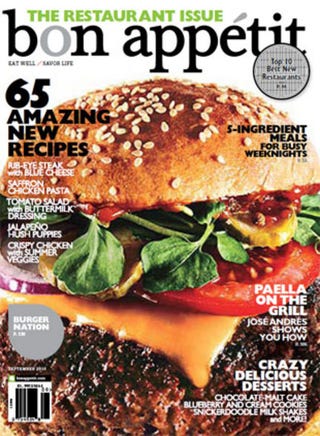 In your massive Monday media column: Bon Appetit's editor is leaving, Martha Stewart's TV shows are failing, Vulture's going out on its own, TV Guide is trying hard, and Robert Thomson is just talking shit, as always.
Conde Nast is moving the headquarters of Bon Appetit from California to NYC. The company is also burying the lead of its press release, which should have been this: "After 32 years at Bon Appétit – serving the last 10 years as Editor-in-Chief – Barbara Fairchild will be leaving the magazine to pursue other opportunities, including future projects for Condé Nast. She will continue in her current role through the magazine's transition to New York, at which time a new Editor-in-Chief will be named."


The Hallmark Channel is now showing all types of Martha Stewart™ content, and guess what, the ratings suck big time. One, nobody watches the Hallmark Channel, two, nobody wants to watch Martha Stewart, and third and most importantly, everybody knows you never emailed me in regard to our ongoing feud, Martha, and that probably death for your image right there, bazongo.


New York mag is spinning off culture blog Vulture into its own thing, Vulture.com, starting tomorrow.


Media anachronism TV Guide is making an "effort at clawing its way back to respectability." Also making the same effort: the Deseret News' editorial page, to the outrage of its readers.


WSJ editor Robert Thomson now says the New York Times is "not a serious competitor." He also says the paper's recent expansions are not about challenging the NYT. He's just a fun-loving guy who likes to say wacky things, basically.