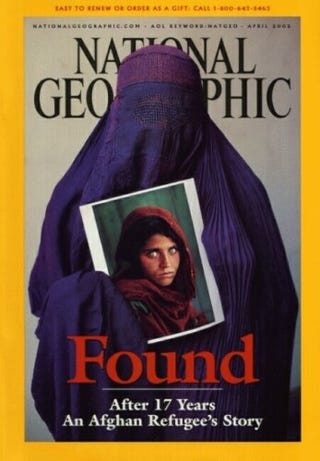 In your scaremongering Thursday media column: Nat Geo sells out to the Muslims, Hearst's outside-the-box new program gives employees "money," the NYT Co. expects people to pay to read the Boston Globe, and Bill Keller is a put-down artist.
National Geographic magazine is going to start printing an edition in Arabic. Christ, after everything else, the Muslims want to take over our national geography, too? Someone alert Texas.
Hey hey, Hearst is going to give "financial rewards" to employees who come up with good business ideas. The prime reward: a job. Kidding! It's probably just some pittance.
Here is a funny thing that NYT Co. executives said yesterday: soon, readers will be expected to pay in order to read the Boston Globe online. We wish them luck with that.
Ray Perelman, the 93 year-old father of billionaire Ron Perelman, has put in a $50 million bid on the bankrupt Philly papers, saying he wants to keep them in local hands. He is the Sidney Harman of Philadelphia. We wish him luck with that.
John Koblin wrote a little story for the NYO about Jill Abramson returning to her former role as managing editor at the NYT slightly ahead of schedule, from a different position in-house. NYT editor Bill Keller answered Koblin's questions and then added, "Boy, John, do you need to get a life. Even I can't see an interesting story in this, and I live here." What are you John Koblin some sort of MEDIA REPORTER?
[We know you were just kidding though, Bill. Do you want to go bowling? Email me.]