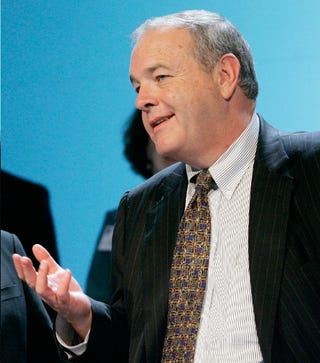 In your finally Friday media column: CEO tells reporters to give his kid some gigs, Jon Klein got shot, the third media exec of the day falls, and Joe Halderman will skip the Emmys.
Hahaha: MediaNews Group CEO Dean Singleton sent out a memo to some Denver Post staffers asking if they would give him some work—"It would be great if folks could offer up opportunities for him to tag along on assignments, he's eager really and can do some writing or just watch." Hahaha. Oh, Adam. We are embarrassed for you. These things should be handled quietly.
Newly canned former CNN prez Jon Klein explains what went down: "People get shot in our business. I got shot." Huh.
Steve Wadsworth, the president of Disney Interactive Media Group, resigned last night. I guess that answers this question.
Sad news: failed Letterman extortionist Joe Halderman, recently freed from prison, says he will not be attending the Emmy Awards, even though he's nominated. You've paid your debt to society, Joe. You should feel free to participate in a media circus.