This week, our "Meet a Gawker.TV Intern" series focuses on Andrew Tatreau-Sherwood, another one of our fantastic team of summer interns.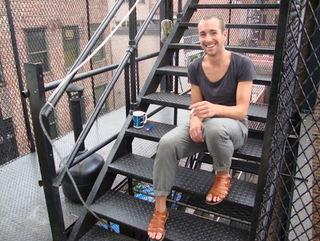 Photo by Emily Miethner.

How did you learn about the Gawker.TV internship program?
I saw a post about it on Jezebel.com

What do you want to be when you grow up?
Documentary Filmmaker
What is your all time favorite TV Show?
Drama: Six Feet Under
Comedy: Seinfeld
What is your favorite post on Gawker.TV?
By me? The Lady Gaga/Beyonce video mash-up and analysis.

What experiences did you hope to gain from this internship? I wanted to be in a workplace environment, since I've only done freelance in the past, learn about promotion, expand my skills on social media (still working on it, slowly but surely), and explore the Blogosphere.

Did your Gawker.TV internship live up to your expectations? How so?
Definitely. This is my first internship, and I've heard that a lot of internships are just bitch work, and a means of getting connections. But my experience at Gawker.TV has far exceeded my expectations. I think the key to it being such a fun internship is that we interns are equally participating in posts, getting credit for said posts, and given the opportunity to pursue creative projects on our own. Plus Blakeley is such a Virgo mom in his guiding educational manner.
Was there something in particular that you learned from this internship that you didn't know before you started?
Mainly, I learned a lot about self-promotion, and was able to finally picture the blog-work-environment. I had no idea what the offices, the people, the amount of work put into the crap I've been consuming for the past four years from Gawker. I just imagined little closets where blogging elves constantly collect and distribute random information.

What has been your favorite part about your internship?
Getting to watch TV shows that I love talking about with my friends, then writing about them, and having other people react to my perception of those programs. Having a dialogue outside of my social circle is pop-culturally fulfilling. My favorite part, though, is getting to do video mash-ups and analysis more in depth of various media.
What skills do you feel you've gained as a result of this internship?
Work ethic, knowledge about promotion via social media, The View.
What was the biggest surprise you encountered interning at Gawker.TV?
That it functions like any other office job that's well organized, laid back, yet productive. I, like many others, didn't take blogging as a profession very seriously until I saw, and participated in it first hand.
How does this internship differ from any other previous internships you might have had in the past?
Never had any before.

If you could, would you intern here all over again?
I love it, and first time around it's well worth it because even though you're not getting paid you feel content in how much of a role you play in getting content online. But I gotta pay my child support.

Would you recommend interning for Gawker.TV to others?
Holla!
Do you have any tips or advice you would give future Gawker.TV interns?
Take advantage of the opportunities to contribute, as well as build relationships and connections that the job offers. Give Blakeley respect, show up on time, and take the job seriously but don't be intimidated by his blunt, commanding shell.
Do you have any ideas on how we can improve the internship program?
Not really.

What do you hope to do once you finish your internship?
Pray to the Gods for a job so that I don't have to go back to Nebraska for too long.
Any regrets?
No. Maybe if I didn't work on Wednesdays I'd regret it, because we get free breakfast and all the other interns don't. Oh, snap!
Follow Andrew on tumblr, and email him here.
If you or someone you know is interested in interning at Gawker.TV send an email to internships@gawker.tv for more information.