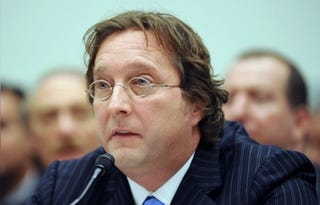 In your disastrous Thursday media column: Philip Falcone cannot stop the media, a media reporter job is open now, a newspaper wants to see your tats, and the Boston Globe and Philly Inquirer are total wrecks, in separate ways.
Hedge fund billionaire (and husband of famous entrepreneur Lisa Falcone) Philip Falcone is lashing out—at the innocent media! Falcone is upset about recent press coverage of his fund's investments, and yesterday he warned investors on a conference call to stop talking to reporters. Three of them then told Reuters all about it. Phil: you know damn well the only way to shut the media up is to own it.


Business Insider is seeking a media reporter! Must "enjoy producing everything from one-sentence blurbs to photographs to explainer features to multi-thousand word-investigations." Why, that sounds like...you! And dozens of your acquaintances! Everyone, apply fast! Faster! Internet speed!


Ken Silverstein, the excellent Washington editor of Harper's Magazine, is leaving to take a fellowship with George Soros' Open Society Institute.


"Is Modesto Bee trying too hard to reach young readers?" Romenesko modestly asks, atop a story on the paper's "Show Us Your Tattoo" scheme to get 20-somethings to "stop by our website to view a few tattoos and maybe even pick up a copy of the newspaper." Newspapers can still bring a smile to our faces!


In less happy newspaper news, the Boston Globe is planning to offer two separate websites—one free, and one paid—in, presumably, an attempt to somehow make money (*snort*); and the brand-new owners of the Philly papers are already threatening to shut them down in a labor dispute. Woops.
[Pic: AP]