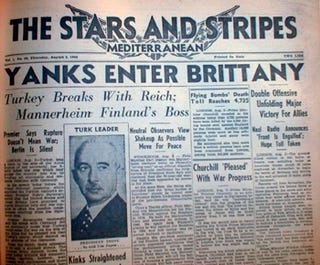 In your underwater Friday media column: soljournalists love porn, Tina Brown rumor watch, MTV's programming head departs, Connie Schultz salutes Connie Schultz, and Bill Keller hates the Twitter.
US military newspaper Stars and Stripes regrets to inform you that an investigation has found that "'a considerable number' of the news organization's Pacific employees have accessed gambling and pornography sites using government computers." High five.


It's time for the latest on the "Tina Brown takes over Newsweek as it combines with The Daily Beast" permarumor! Sidney Harman is now saying that Newsweek should have a new editor within a couple of weeks. That seems to favor Tina, since at least we know they're already vetting her. It would be a quick turnaround to go find an outsider that fast.


MTV programming president Tony DiSanto is leaving the network to form his own production company. Related: Variety's kitschy use of old-timey industry slang in its stories still renders them borderline unreadable. In case you were wondering.


Hero journalist Connie Schultz is still engaged in the heroic work of journalism, according to a new column about hero journalist Connie Schultz by hero journalist Connie Schultz. Seems like a nice person, needs a mean editor. (As do "bloggers!")


For the 505th consecutive day, Bill Keller put nothing on Twitter.
[Pic
via
]